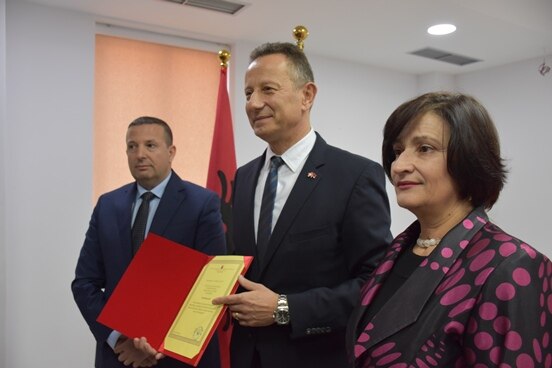 A new name is added to the list of honorary citizens for Berat: Christoph Graf, current Swiss Ambassador in Albania. The municipal council voted on December 15th, 2017 unanimously to award the title to the Swiss Ambassador with the motivation: 'for valuable contribution and active role in supporting development cooperation projects for the city of Berat and strengthening friendly relationships between Switzerland and Albania'.
'I receive this award today as a sign of recognition and gratitude of the Berat municipal council for the contribution of my Government and its development cooperation work over the last years to improve the citizens' quality of life in this region', said Swiss Ambassador Christoph Graf as he received the title. 'Starting from today the historical city of Berat is somehow my second home city', said Ambassador Graf.
Mayor Petrit Sinaj in his address mentioned the fact that during his time in Albania Ambassador Graf has given his maximum in cooperation projects and funds to improve infrastructure and opportunities in Berat region. He praised in particular the untiring commitment and role played by Ambassador Graf in ensuring the progress of Swiss investment projects in the area. Together with the Chairwoman of Berat's Municipal Council Nikoleta Manka, Mayor Sinaj handed over the honorary citizenship certificate and plaque.
After the award ceremony Mayor Petrit Sinaj accompanied the Swiss guest at a children's running race in the centre of Berat and later in a visit to the water utility which will undergo a renovation due to a Swiss fund.
Other notable honorary citizens of Berat include archeologist and historian Moikom Zeqo, journalist Ilir Konomi, and writer Xhanfize Keko (post-humously).
Swiss cooperation funds are active in Berat region in the form of promoting tourism and employment, rehabilitating water supply and introducing new waste management models. Nearly 6 million Euro are committed to various interventions that aim at improving the quality of life.
The latest project agreement signed in December 2017 foresees major improvements in waste management that will benefit 230,000 inhabitants in addition to tourists and visitors.