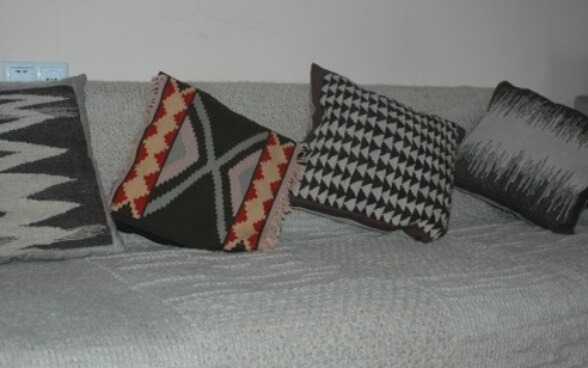 In Syunik's Shinuhayr village, not far from the Yerevan-Goris highway stands a huge run-down factory where shoes were produced during Soviet times. Part of the building will soon host an innovative handicraft business: A women-led income generation initiative, implemented by the Goris Women's Resource Centre Foundation.
Among many other activities in support of women, the Goris-based Women's Foundation runs two income generation projects: Goris Crochet and Wool to Carpet. These two projects together create jobs for 95 women from low income families. Products include a wide range of handmade toys, wallets, purse, socks, but also cushions and blankets made of local wool.
"We supply many souvenir shops in Armenia and abroad with our produce", explains Ruzanna Torozyan, the Head of the Foundation. However, money inflow from the sale of produce is a challenge, as explains Anna Alexanyan, the marketing specialist of the Goris Crochet and Wool to Carpet projects: "Due to transportation and top-up of the price by intermediaries, it takes much longer until products are sold and the women get paid." Therefore, the women developed the idea of opening their own shop: "We hope to sell our products faster from first hands", explains Anna.
Starting from mid-March 2016 the Goris Crochet and the Wool to Carpet projects want to expand their activities by attracting additional 40 women from Shinuhayr village. These women will occupy the famous old shoe factory in Shinuhayr which has been shut down since the early 1990s. It is not far from the popular and beautiful Tatev monastery, an Armenian-Apostolic monastery from the 9th century and the longest cable car in the world, the "Wings of Tatev". 
Ruzanna Torozyan has already concrete ideas of how to attract tourists to the handmade products of local women. The small souvenir shop inside the old shoe factory will include a production show room, and in the green and blossoming courtyard, tourists will be offered a cup of herbal tea from local mountains out of samovar, along with some delicious sweets baked by local women.
The project, which receives support from the Swiss Agency for Development and Cooperation in Armenia, is not only a promising initiative in terms of income generation – it is also a social project, providing women with the opportunity to gather and to exchange. E.g. as Arevik, one of the women says, Ruzanna (head of the Foundation, the only woman in the city council) takes women's problems as her personal and helps them to find a solution.
"My name is Arevik Aghajanyan. Arevik is an Armenian word for Sun. I am 46 and live in Goris. We moved here from Baku, Azerbaijan in 1989. I married here, now we have two sons - 23 and 21 years old. My husband works for construction in Russia since years. My eldest son is married and just found a job as a military in Goris. The youngest son is a student, he studies Finance. We all live together. I am a teacher by education, worked for ten years as a teacher, then was at home for 15 years. Since six years I crochet different toys and support the biggest part of our household expenses. Now I also pay the schooling of my youngest son. It gives me a very good feeling. Recently, my daughter-in-law also joined the crochet. It is fun, especially when we all gather and crochet together!"