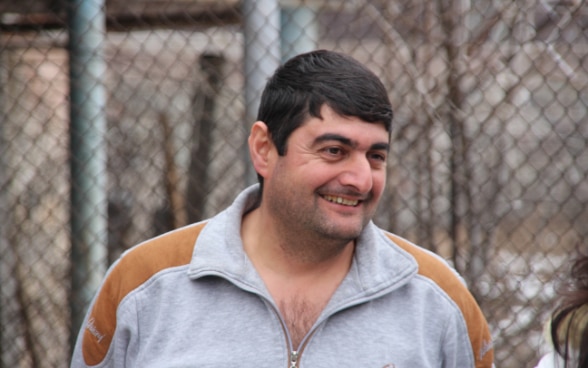 It is foggy and snowy in Verishen on that day of February, with temperatures lying way below zero degrees Celsius. Verishen is a small village in the Syunik region, in the south of Armenia. Its houses are built neatly, in a row, out of stone. The roads haven't been paved for a while; there are holes everywhere. A young, confident looking man in a sports suit and slippers, surrounded by few other men, speaks on the phone. He does not look very satisfied. Later on, he explains that the path leading to his farm got covered by an avalanche in the morning. Now, he tries to organize a tractor. Only then he introduces himself. Sevak is his name.
Sevak Zadayan, 37, and his wife Hermine, 36, both grew up and got married in Verishen. Today, they have three children. There were times when they wanted to sell their small farm and do something else to earn a living, perhaps even to migrate as many others did. There's not much more to do in Verishen other than to keep livestock. However, the location is a big problem. The village is situated at 1600 meters above the sea level and 250 kilometers away from the central markets of Yerevan, the capital of Armenia. The road to the capital leads over several high mountain passes. The nearest pastures are worn out; the remote ones have neither access to water, nor a path to go there.
Sevak had had basic experience in keeping farm animals before he took part in the trainings on farm planning and development provided by a Swiss-funded project, which is implemented by the Strategic Development Agency, a local NGO. "We used to keep livestock all year-round in the open air and wondered why our cows gave almost no milk in winter!" he exclaims with a big laughter opening his arms wide to the sides and raising his shoulders to his ears. "We learned to build open-air-barns and to milk cows under the roof to keep the milk clean. We learned that diverse fodder is important for productivity of the livestock," Sevak proudly states.
Today, Sevak and Hermine, who started with five cows in 2009, maintain a farm of 30 cows of "Caucasian Brown" breed. What they own today all comes from the Animal Market built through the Project some 15 km away from Verishen. "The Animal Market provides quality veterinary check-up before selling the livestock. This gives me confidence in animals' health and genetics. Moreover, I can pay the amount gradually and without any interest. I can bring my animals to sell as well. Otherwise, I would not have enlarged my farm", confesses Sevak.