"Doing Business in Armenia" Online Webinar
Article, 29.04.2021
On 27th of April a webinar dedicated to Doing Business in Armenia was organized by the Joint Chamber of Commerce Switzerland. Having a wide geography (Switzerland, Armenia, Russia, France, Germany among others), the webinar has brought together more than 50 participants, representing governments and international organizations, as well as IT, advisory, banking, pharma, machinery, agro business sectors among others.
The webinar was honoured by the presence and participation of the Minister of Economy of Armenia Mr. Vahan Kerobyan as keynote speaker. In his presentation, Ambassador Lazzarotto spoke about the cooperation between the two countries in the sectors of economy, development cooperation and more.
Dynamic speeches and presentations were made by other panelists as well. The President of AzadPharma and Swiss Armenian Chamber of Commerce, Mr. Mike Baronian introduced the topic "Doing business in Armenia", answering to all possible questions a potential investor could have before selecting a country to invest in. Moving forward, the webinar was spiced up by an informative presentation by the Head of Schneider Group Yerevan office, Mrs. Diana Movsesyan, who briefly mentioned the most important elements needed for registering a business in Armenia.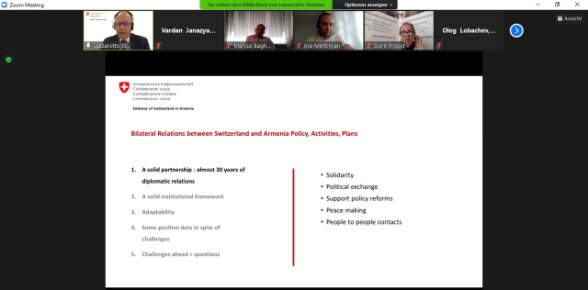 Participants had an opportunity to ask their questions to the panelists and to learn more about the Swiss-Armenian startups funding possibilities from the presentation made by Mr. Andreas Ragaz, representing the Swiss SECO startup Fund.