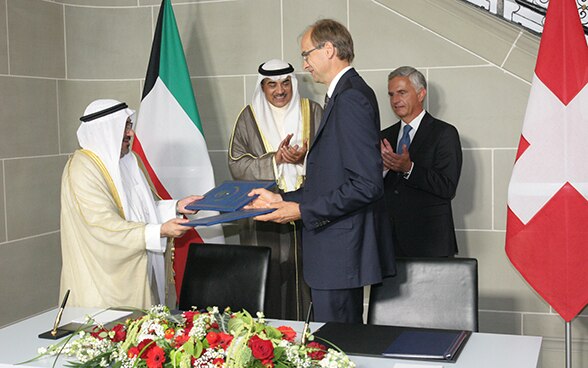 As part of the celebrations to mark 50 years of bilateral relations, Switzerland and Kuwait signed a memorandum of understanding on development cooperation in the presence of the Head of the Federal Department of Foreign Affairs (FDFA), Didier Burkhalter, and the Minister of Foreign Affairs of Kuwait, Sheikh Sabah Khaled Al-Hamad Al-Sabah. Kuwait is an important player in the field of development cooperation, especially in Syria, where it is one of the largest bilateral donors providing humanitarian assistance. Switzerland, for its part, has considerable experience and expertise in spending development aid cost-efficiently and effectively.
Besides agreeing to work more closely together on development cooperation, the two foreign ministers discussed, in particular, international issues such as the region's stability, migration and human rights. They agreed that conflicts in the region can only be resolved through dialogue and negotiations. Both Switzerland and Kuwait are engaged in mediation and facilitation efforts. They also discussed economic matters, including the implementation of the free trade agreement between the European Free Trade Association (EFTA) and the Gulf Cooperation Council (GCC), as well as trade and investment promotion. These topics will be explored in greater depth at a round-table organised by the State Secretariat for Economic Affairs (SECO) and attended by its director, State Secretary Marie-Gabrielle Ineichen-Fleisch, after the official ceremony to mark 50 years of relations. The President of the Swiss Confederation, Johann N. Schneider-Ammann, also received Sheikh Al-Hamad Al-Sabah on Monday morning, 29 August, for a courtesy visit. On Monday afternoon, Sheikh Al-Hamad Al-Sahab will also meet the President of the National Council, Christa Markwalder.
Switzerland has had very good and friendly exchanges with Kuwait since the latter gained its independence in 1961. The two countries have had official diplomatic relations since Switzerland opened a consulate in Kuwait City in 1966. Switzerland is a popular destination for Kuwaiti tourists and many Kuwaiti students are studying in Switzerland. Kuwait is a significant export market for Swiss goods and services. In 2015, Swiss companies exported goods worth about CHF 450 million to Kuwait. Swiss exports mainly consist of watchmaking products (29%), pharmaceutical products (28%), precious stones/metals and jewellery (15%) and machinery (12.5%).
---
Further information:
Address by Federal Councillor Didier Burkhalter at the official ceremony in Bern to mark 50 years of diplomatic relations between Kuwait and Switzerland
Bilateral relations Switzerland–Kuwait

---
Memorandum of understanding(pdf, 142kb)

---
Address for enquiries:
Information FDFA
Bundeshaus West
CH-3003 Bern
Tel.: +41 58 462 31 53
Fax: +41 58 464 90 47
E-Mail: info@eda.admin.ch
---
Publisher: