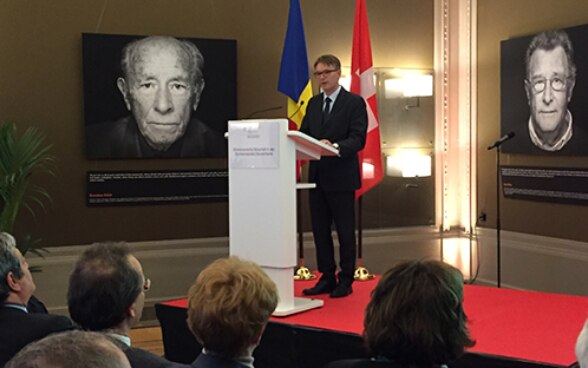 Nell'ambito di una cerimonia ufficiale all'Ambasciata di Svizzera a Berlino, l'ambasciatore Benno Bättig, direttore della delegazione svizzera dell'IHRA e segretario generale del DFAE, ha assunto la direzione dell'IHRA, subentrando alla Romania. Durante la presidenza sono previste varie attività volte a «raggiungere i giovani e a far sì che il passato continui a vivere nel presente», ha detto il nuovo presidente in carica in occasione della cerimonia ufficiale.
La Svizzera ha affermato che, tra le priorità della sua presidenza dell'IHRA, ci saranno la formazione e l'istruzione, il lavoro con i giovani e i social media. Sono proprio i moderni canali di comunicazione, infatti, il mezzo con cui si intende trasmettere ai giovani conoscenze sull'Olocausto e mantenere vivo il ricordo dei crimini perpetrati dal regime nazista ai danni del popolo ebraico, dei Rom e di altre comunità. «È una nostra responsabilità e un nostro compito trasmettere queste conoscenze ai giovani, che saranno le cittadine e i cittadini di domani, affinché siano in grado di discernere l'essenziale dal superfluo, la vita reale da quella virtuale», ha aggiunto l'ambasciatore Bättig.
Nell'ambito della sua presidenza, la Svizzera organizzerà giornate internazionali di studio sull'istruzione presso l'Alta scuola pedagogica di Losanna, durante le quali il tema dell'Olocausto sarà affrontato dalla prospettiva dell'insegnamento e dell'apprendimento. Le giornate di studio intendono fornire spunti su come tematizzare nelle scuole questo argomento in modo adeguato e proficuo. Durante la presidenza svizzera, saranno organizzate anche due assemblee plenarie dell'IHRA, una a Ginevra e una a Berna; inoltre, l'Alta scuola pedagogica di Berna ospiterà una conferenza sui massacri perpetrati dal regime nazista nei confronti delle persone disabili.
L'IHRA è un'organizzazione intergovernativa di cui fanno parte 31 Stati. Il suo obiettivo è, in particolare, promuovere la ricerca e la didattica sull'Olocausto negli Stati membri e perpetuare la memoria delle vittime con commemorazioni e memoriali. Tra i partner istituzionali dell'IHRA figurano, tra gli altri, l'ONU, il Consiglio d'Europa, l'Ufficio per le istituzioni democratiche e i diritti umani dell'OSCE e l'UNESCO. La Svizzera è membro dell'IHRA dal 2004 e, sin dalla sua adesione, contribuisce attivamente al raggiungimento degli obiettivi dell'organizzazione, come emerge anche dal rapporto del 2015 destinato all'IHRA. Nel 2016, ad esempio, è stata organizzata a Lucerna una conferenza internazionale dell'IHRA per la ricerca sull'Olocausto nel settore dell'istruzione, in occasione della quale sono stati discussi i risultati delle più recenti indagini condotte nel mondo sulla trasmissione delle conoscenze sull'Olocausto. Gli esiti della conferenza sono stati pubblicati in un volume presentato all'odierna cerimonia a Berlino («Research in Teaching and Learning about the Holocaust», a cura della ginevrina Monique Eckmann). La Svizzera sostiene inoltre la pubblicazione di una raccolta di memorie di persone sopravvissute al genocidio e due mostre itineranti.
Sin dall'adesione della Svizzera all'IHRA, il DFAE incontra i principali attori federali, cantonali e non governativi nell'ambito di un gruppo di accompagnamento che ha partecipato alla definizione e alla strutturazione della presidenza svizzera dell'IHRA. La collaborazione stretta con il gruppo continuerà a rappresentare un punto fondamentale per tutto l'anno di presidenza. Nel marzo 2018, la presidenza dell'organizzazione sarà assunta dall'Italia.
---
Informazioni supplementari:
2017, anno della presidenza svizzera dell'International Holocaust Remembrance Alliance, dossier, DFAE

---
discorso del segretario generale Benno Bättig in occasione della cerimonia di consegna della presidenza dell'IHRA (International Holocaust Remembrance Alliance) dalla Romania alla Svizzera (en)(pdf, 70kb)

---
Indirizzo per domande:
Informazione DFAE
Palazzo federale ovest
CH-3003 Berna
Tel.: +41 58 462 31 53
Fax: +41 58 464 90 47
E-Mail: info@eda.admin.ch
---
Editore