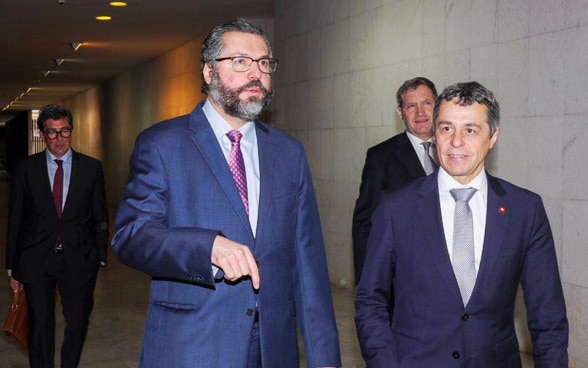 It is 10 years since Switzerland launched its strategic partnership with Brazil. This partnership has established regular dialogue at various levels on a range of issues, including business, science, justice, tax/finance, human rights and intellectual property. Brazil is also one of Switzerland's non-European priority partner countries for research cooperation.
Economic exchange between the two countries is extensive. The trade balance between Switzerland and Brazil, which is a G20 country, reached CHF 4.3 billion in 2018. A free trade agreement between Mercosur (Brazil, Argentina, Uruguay, Paraguay) and EFTA (Switzerland, Norway, Iceland and Liechtenstein) has been under negotiation for two years. In Brasilia, Mr Cassis and his Brazilian counterpart Ernesto Araújo concurred that the agreement should be finalised as soon as possible in order to boost economic relations. At this meeting, Mr Cassis emphasised that social and environmental standards must always be taken into account in questions of economic development. There was no future without sustainability, he said.
One of the necessary framework conditions for flourishing economic relations is the already negotiated double taxation agreement, which is now in the process of ratification in Brazil. The two ministers also restated their interest in a bilateral investment protection agreement.
Scientific and diplomatic cooperation were also discussed. The Brazilian delegation expressed interest in the newly-founded GESDA Foundation (Geneva Science and Diplomacy Anticipator), an initiative of the Federal Council and the Canton of Geneva. The societal consequences of digitalisation (internet governance, artificial intelligence, robotics, etc.) are an issue of importance to the international community and International Geneva seems predestined to be the arena for these future developments. Brazil also has a pronounced interest in Fintech. Furthermore, it reiterated its traditionally active presence in International Geneva and the two ministers discussed their countries' cooperation within the UN. The focus here was the UN reforms and the role of the Security Council. Moving on to regional issues, Mr Cassis and Mr Araújo then talked about the situation in Venezuela.
The day before his meeting with Mr Araújo, Mr Cassis met members of the Swiss-Brazilian Chamber of Commerce in São Paulo. Brazil's economic potential, opportunities and obstacles for the private sector and corporate social responsibility were among the topics of this exchange.
A large Swiss community

Brazil is the largest country in South America, occupying nearly half the continent's land mass – an area roughly 200 times the size of Switzerland. It is the fifth largest country in the world, with a population of more than 200 million and is Latin America's largest economy.
Brazil is home to Latin America's second biggest Swiss community, with roughly 15,000 Swiss nationals registered in Brazil and a large number of Brazilians with Swiss ancestry. The first Swiss people to come to Brazil were the Calvinist missionaries who arrived in 1557, paving the way for further Swiss settlers in the 19th century. South America's first Swiss consulate was opened in Rio de Janeiro in 1819. The majority of Swiss people migrating to Brazil in the 20th century were skilled workers and managerial staff of Swiss companies.
---
Further information:
Bilateral relations Switzerland – Brazil

---
Address for enquiries:
FDFA Information
Federal Palace West Wing
CH-3003 Bern, Switzerland
Tel.: +41 58 462 31 53
E-mail: info@eda.admin.ch
Twitter: @SwissMFA
---
Publisher: