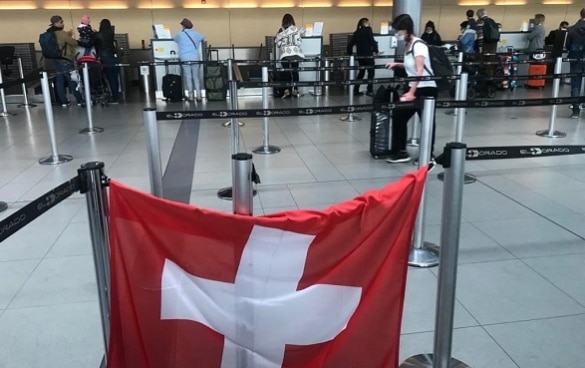 COVID-19: Informationen der Schweizer Botschaft an Schweizer Bürgerinnen und Bürger, die derzeit in Kambodscha reisen oder sich dort aufhalten / Nr. 4 / 11.04.2020
Liebe Mitbürgerinnen und Mitbürger,
Ich hoffe, dass es Ihnen trotz den schwierigen und aussergewöhnlichen Umständen, die wir zurzeit durchleben, gut geht. Mit diesem Brief möchte ich Ihnen neue Informationen im Zusammenhang mit der momentanen Krise zukommen lassen.
A) Funktionsweise der Schweizer Botschaft und der konsularischen Dienste
Die Schweizer Botschaft in Bangkok, verantwortlich für Kambodscha, befindet sich seit dem 16. März im Krisenmanagement-Modus. Seither hat sich das gesamte Botschaftsteam in Zusammenarbeit mit der Konsularagentur in Phnom Penh intensivst mit der Situation rund um COVID-19 befasst und tut sein Bestes, um alle Schweizer Reisende auf ihrer Heimreise zu unterstützen. Gerne teile ich Ihnen mit, dass wir alle wohlauf sind und aus den positiven Ergebnissen unserer Bemühungen die nötige Energie schöpfen, um weiterhin für Sie da zu sein.
Das Personal der Schweizer Botschaft widmet sich weiterhin voll und ganz der COVID-19-Situation, um Schweizer Bürgerinnen und Bürger mit den verfügbaren Ressourcen bestmöglich zu beraten und zu unterstützen. Für gewöhnliche Anliegen können Sie die Schweizer Konsularagentur in Phnom Penh (pnh.consularagency@eda.admin.ch) kontaktieren. Bei Fragen zur Situation von COVID-19 wenden Sie sich bitte direkt an die Schweizer Botschaft in Bangkok (bangkok.cc@eda.admin.ch).
B) Rückholaktion und verbleibende Rückkehrmöglichkeiten
Rückholaktion:
Die von der Schweiz organisierte Ausreise von Schweizer Reisenden in Kambodscha und in der Region wurde am 5. April abgeschlossen. Ein Charter-Flug von Phnom Penh nach Zürich wurde am 3. April durchgeführt. Wir ziehen eine äusserst positive Bilanz dieser Rückholaktion, welche viele gestrandete Reisende mit insgesamt 5 Charter-Flügen aus Kambodscha, Thailand, Myanmar und Laos in die Schweiz nach Hause bringen konnte. Die Schweiz plant keine weiteren Repatriierungsflüge aus Kambodscha zu organisieren.
Kommerzielle Flüge:
Wir sind uns bewusst, dass sich einige Reisende, die in die Schweiz zurückkehren wollen, immer noch in der Region aufhalten. Wenn dies für Sie der Fall ist, sollten Sie wissen, dass auf der regelmässig aktualisierten Facebook Seite (Swiss Mekong Cooperation) eine Liste der verbleibenden internationalen Flüge aus Kambodscha zur Verfügung steht. Leider schwinden die Möglichkeiten zunehmend und Sie sollten schnell handeln. Wenn Sie derzeit aufgrund finanzieller Schwierigkeiten kein Rückreiseticket kaufen können, kann die Botschaft Sie mit einer Summe unterstützen, die Sie nach Ihrer Rückkehr in die Schweiz zurückerstatten müssen.
C) Für Schweizer Reisende
Travel Admin App (Itineris):
Wir bitten alle Schweizer Reisenden in Kambodscha, sich auf der "Travel Admin App" (auch "Itineris" genannt) zu registrieren, damit wir Sie bei Bedarf kontaktieren können. Die Reisedaten auf der App müssen auf dem neuesten Stand sein, damit wir Reisende, die sich noch im Land befinden, leicht identifizieren können. Wenn Sie in Kambodscha ansässig und bei unserer Botschaft angemeldet sind, registrieren Sie sich bitte nicht auf der "Travel Admin App".
Um einen besseren Überblick über die allgemeine Situation von Schweizer Reisenden, die sich noch in Kambodscha befinden, zu erhalten, werden wir in den nächsten Tagen zudem einen kurzen Fragebogen per separater E-Mail an Personen versenden, die bei der "Travel Admin App" registriert sind.
Wenn Sie nicht in die Schweiz zurückkehren können:
Sollten Sie trotz all Ihrer Bemühungen nicht in die Schweiz zurückkehren können, wenden Sie sich bitte ebenfalls an unsere Botschaft. Auch wenn unsere Möglichkeiten, Ihnen zu helfen, begrenzt sind, ist es für uns wichtig zu wissen, wo Sie sich befinden, damit wir Ihnen alle notwendigen Informationen weiterleiten können.
Je nachdem, wie sich die Situation entwickelt, müssen Sie sich darauf vorbereiten, länger als erwartet in Kambodscha zu bleiben. Wenn dies der Fall sein wird, empfehlen wir Ihnen, sich zu vergewissern, dass Sie über eine Unterkunft verfügen, wo Sie sich für längere Zeit aufhalten können, dass Sie über eine gültige Aufenthaltsbewilligung verfügen, dass Sie über ausreichende finanzielle Reserven verfügen und dass Sie die notwendigen Versicherungen (Reise, Gesundheit, Rückführung) haben.
D) Visumsverlängerung
Gute Nachricht! Die kambodschanischen Behörden haben den ausländischen Botschaften mitgeteilt, dass alle Touristenvisa (Kategorie T) automatisch verlängert werden, bis eine Ausreise möglich ist. "Overstay"-Gebühren fallen nicht an.
E) Situation in Kambodscha und neue Restriktionsmassnahmen
Die kambodschanische Regierung hat kürzlich weitere Massnahmen angeordnet, um eine Ausbreitung der COVID-19-Infektionen zu verhindern. So wurde zum Beispiel das Khmer-Neujahrsfest verschoben. Darüber hinaus ist seit dem 10. April um 00:01 Uhr ein Reiseverbot zwischen Provinzen (mit Ausnahme von Phnom Penh – Kandal) in Kraft. Wenn Sie aus dringenden Gründen Provinzgrenzen überschreiten müssen, z.B. um den internationalen Flughafen von Phnom Penh zu erreichen, oder aus medizinischen Gründen, kann Ihnen unsere Botschaft einen "Laissez-Passer" ausstellen. Dieses offizielle Dokument in Khmer und Englisch sollte es Ihnen ermöglichen, Ihr Ziel trotz des Reiseverbots zu erreichen.
Bitte denken Sie daran, dass wir uns alle als Gäste in Kambodscha befinden. Wir empfehlen Ihnen die Anweisungen der kambodschanischen Behörden in Bezug auf das Verhalten in der aktuellen Situation jederzeit zu befolgen. Informieren Sie sich aktiv über die Anweisungen der Regierung und bei den lokalen Medien über die sich regelmässig ändernden Restriktionsmassnahmen (über Regierungsnachrichten wird täglich in den «Fresh News» Medien berichtet, die Website von «EuroCham Cambodia» bietet auch eine gute Zusammenfassung der Massnahmen der Regierung). Wenn Sie gesundheitliche Probleme oder den Verdacht auf eine COVID-19-Infektion haben, wenden Sie sich an das nächstgelegene Provinzkrankenhaus oder das "Khmer Soviet Friendship Hospital" in Phnom Penh.
Vergessen Sie nicht, regelmässig die sozialen Netzwerke unserer Vertretung in Phnom Penh zu konsultieren: Facebook Seite und Website.
Wenn Sie Schweizer sind, die in Kambodscha leben, helfen Sie uns bitte, diesen Newsletter auch an alle Schweizerinnen und Schweizer zu verschicken, die derzeit in Kambodscha unterwegs sind.
Abschliessend möchte ich mich aufrichtig für die vielen Unterstützungs- und Ermutigungsbotschaften bedanken, die wir seit Beginn der Krise von ihnen erhalten haben. Ihre Rückmeldungen sind eine grosse Motivation für mein Team und mich selbst, um in diesem schwierigen Kontext weiter zu arbeiten.
Ich wünsche ihnen allen ein frohes Khmer-Neujahr und schöne Osterfeiertage. Bleiben Sie in Sicherheit und gesund!
Mit meinen besten Grüssen
Helene Budliger Artieda, Botschafterin für Kambodscha, Thailand und Laos
COVID-19 : Informations de l'Ambassade de Suisse aux citoyennes et citoyens voyageant ou résidant actuellement au Cambodge / n° 4 / 11.04.2020
Chères et chers compatriotes,
J'espère que vous vous portez bien malgré les circonstances difficiles et exceptionnelles que nous traversons. Par cette nouvelle lettre, je tiens à vous communiquer de nouvelles informations dans le contexte de cette crise sans précédent.
A) Fonctionnement de l'ambassade et des services consulaires suisses
L'Ambassade de Suisse à Bangkok fonctionne depuis le 16 mars en mode de gestion de crise. Depuis lors, toute l'équipe de l'ambassade, en collaboration avec l'Agence consulaire suisse à Phnom Penh, s'occupe de la situation COVID-19 et s'efforce de soutenir au mieux tous les voyageurs suisses qui souhaitent rentrer chez eux. Je suis heureuse de vous informer que nous allons tous bien et que les résultats positifs de nos efforts nous donnent l'énergie nécessaire pour continuer à être là pour vous.
Le personnel de l'Ambassade de Suisse continue de consacrer toute son attention à la situation COVID-19 afin de fournir aux citoyens suisses les meilleurs conseils et le meilleur soutien possible avec les ressources disponibles. Pour les affaires courantes, vous pouvez contacter l'Agence consulaire suisse à Phnom Penh (pnh.consularagency@eda.admin.ch). Si vous avez des questions concernant la situation COVID-19, veuillez contacter directement l'Ambassade de Suisse à Bangkok (bangkok.cc@eda.admin.ch).
B) Action de rapatriement et possibilités restantes pour quitter le Cambodge
Action de rapatriement :
Le rapatriement des voyageurs suisses au Cambodge et dans la région, organisé par la Suisse, s'est achevé le 5 avril. Un vol charter de Phnom Penh à Zurich a été effectué le 3 avril. Nous tirons un bilan très positif de cette opération de rapatriement. En effet, grâce à un total de cinq vols charters en provenance du Cambodge, de la Thaïlande, du Myanmar et du Laos, cette action a permis de ramener en Suisse de nombreux voyageurs bloqués. La Suisse n'a pas prévu d'organiser d'autres vols de rapatriement depuis le Cambodge.
Vols commerciaux :
Nous sommes conscients que certains voyageurs qui souhaitent rentrer en Suisse se trouvent encore dans la région. Si tel est votre cas, sachez qu'une liste des vols internationaux restants au départ du Cambodge est disponible sur la page Facebook (Swiss Mekong Cooperation) et régulièrement mise à jour. Malheureusement, les possibilités s'épuisent rapidement et il faut agir vite. Si vous n'avez actuellement pas la capacité d'acheter un billet de retour à cause de difficultés financières, l'Ambassade peut vous soutenir avec une aide d'urgence que vous devrez rembourser une fois de retour en Suisse.
C) Pour les voyageurs suisses
Travel Admin App (Itineris) :
Nous prions tous les voyageurs suisses au Cambodge de s'enregistrer sur l'application "Travel Admin App" (aussi appelée "Itineris") afin que nous puissions vous contacter si nécessaire. Les dates de votre voyage sur cette application doivent être à jour afin de pouvoir facilement identifier les voyageurs se trouvant encore dans le pays. Si vous êtes résident au Cambodge et enregistré auprès de notre Ambassade, merci de ne pas vous inscrire sur cette application.
Afin d'obtenir une meilleure vue d'ensemble de la situation générale des voyageurs suisses qui se trouvent encore au Cambodge, nous allons également envoyer ces prochains jours par courriel séparé un petit questionnaire aux personnes inscrites à la "Travel Admin App".
Si vous n'arrivez pas à rentrer en Suisse :
Si malgré tous vos efforts, vous n'arrivez pas à rentrer en Suisse, merci de vous annoncer aussi auprès de notre Ambassade. Bien que nos capacités d'action pour vous assister soient limitées, il est important pour nous de savoir où vous vous trouvez afin de vous transmettre toute information nécessaire.
Suivant l'évolution de la situation, il est possible que vous deviez vous préparer à devoir rester au Cambodge plus longtemps que prévu. Si cela se confirme, nous vous recommandons de vous assurer que vous disposez d'un logement où vous pouvez résider de manière prolongée, d'être en règle sur le plan migratoire (un permis de séjour valide), d'avoir des réserves financières suffisantes ainsi que d'être pourvu des assurances nécessaires (voyage, santé, rapatriement).
D) Prolongation de visa
Bonne nouvelle ! Les autorités cambodgiennes ont informé les ambassades étrangères que tous les visas touristiques (catégorie T) sont automatiquement prolongés jusqu'à ce que le départ du Cambodge soit possible. "Les frais de dépassement de séjour (« overstay ») ne seront pas facturés.
E) Situation au Cambodge et nouvelles restrictions
Afin d'endiguer la propagation du COVID-19, le gouvernement cambodgien a récemment ordonné de nouvelles mesures. Par exemple, les célébrations du Nouvel An khmer ont été reportées. En outre, une interdiction de voyager de provinces à provinces (à l'exception de Phnom Penh à Kandal et vice-versa) est entrée en vigueur depuis le 10 avril à 00h01. Si vous deviez toutefois vous déplacer d'une province à l'autre pour des raisons urgentes, telles que rejoindre l'aéroport international de Phnom Penh, ou pour des raisons médicales, notre Ambassade peut vous délivrer un "Laissez-Passer". Ce document officiel en khmer et en anglais devrait vous permettre d'atteindre votre destination malgré l'interdiction de voyager.
N'oubliez pas que nous sommes tous des invités au Cambodge. Nous vous prions de vous conformer strictement aux instructions des autorités cambodgiennes. Informez-vous activement sur les instructions du gouvernement et des médias locaux concernant les mesures de restriction qui changent régulièrement (les nouvelles du Gouvernement sont rapportées quotidiennement dans le média Fresh News, le site internet de la « EuroCham Cambodia » fournit également un bon résumé des mesures prises par le Gouvernement). Si vous avez des problèmes de santé ou si vous suspectez une infection COVID-19, contactez l'hôpital provincial le plus proche ou le « Khmer Soviet Friendship Hospital » à Phnom Penh.
N'oubliez pas de consulter régulièrement les réseaux sociaux de notre représentation à Phnom Penh : page Facebook et site internet.
Si vous êtes un(e) Suisse résidant au Cambodge, merci de bien vouloir nous aider à aussi transmettre cette lettre d'information à tout Suisse actuellement en voyage dans le pays.
Enfin, je tiens aussi à vous remercier sincèrement pour les nombreux messages de soutien et d'encouragement que nous continuons de recevoir depuis le début de la crise. Ces différents témoignages sont une grande source de motivation pour mon équipe et moi-même pour continuer à opérer dans ce contexte difficile.
Je vous souhaite à tous une bonne année khmère et de belles fêtes de Pâques. Restez en sécurité et en bonne santé !
Avec mes meilleures salutations,
Helene Budliger Artieda
Ambassadrice pour le Cambodge, la Thaïlande et le Laos
COVID-19: Information from the Swiss Embassy to Swiss citizens travelling or currently residing in Cambodia / No. 4 / 11.04.2020
Dear Swiss citizens,
I hope you are doing well despite the difficult and exceptional circumstances we are going through. With this new letter, I would like to provide you with new information in the context of this unprecedented crisis.
A) Functioning of the Swiss Embassy and consular services
The Swiss Embassy in Bangkok has been operating in crisis management mode since 16 March. Since then, the entire embassy team, in collaboration with the Swiss Consular Agency in Phnom Penh, has been dealing with the COVID-19 situation and is doing its best to support all Swiss travellers who wish to return home. I am pleased to inform you that we are all doing well and that the positive results of our efforts give us all the energy we need to continue to be there for you.
The staff of the Swiss Embassy continues to be fully dedicated to the COVID-19 situation in order to advise and assist Swiss citizens as best as they can with the resources that are available. For current affairs, you can contact the Swiss Consular Agency in Phnom Penh (pnh.consularagency@eda.admin.ch). If you have any questions regarding the COVID-19 situation, please contact directly the Swiss Embassy in Bangkok (bangkok.cc@eda.admin.ch).
B) Repatriation action and remaining possibilities to leave Cambodia
Repatriation action:
The repatriation of Swiss travellers to Cambodia and the region, organized by Switzerland, was successfully completed on 5 April. A charter flight from Phnom Penh to Zurich took place on 3 April. We draw a very positive assessment of this repatriation operation. Thanks to a total of five charter flights from Cambodia, Thailand, Myanmar and Laos, this action enabled many stranded passengers to return home. Switzerland has no plans to organize any further repatriation flights from Cambodia.
Commercial flights:
We are aware that there could still be some travelers in the region wishing to return to Switzerland. If this is the case, you should know that a list of the remaining international flights from Cambodia is available on this Facebook page ("Swiss Mekong Cooperation") and is regularly updated. Unfortunately, the possibilities are running out fast and you should act quickly. If you are currently unable to purchase a return ticket due to financial difficulties, the Embassy can support you with emergency assistance, which you will have to reimburse once you return to Switzerland.
C) For Swiss travellers
Travel Admin App (Itineris):
We kindly ask all Swiss travellers in Cambodia to register on the "Travel Admin App" (also called "Itineris") so that we can contact you if necessary. The dates of your trip on this application must be up to date so that we can easily identify travelers still in the country. If you are a resident in Cambodia and registered with our Embassy, please do not register on this application.
In order to get a better overview of the general situation of the Swiss travellers still in Cambodia, we will be sending out a small questionnaire by separate email in the next few days to the persons registered on the "Travel Admin App".
If you are unable to return to Switzerland:
If despite all your efforts, you are not able to return to Switzerland, please also contact our Embassy. Although our capacity to assist you is limited, it is important for us to know where you are in order to provide you with all the necessary information.
Depending on how the situation evolves, you may have to prepare yourself to stay in Cambodia longer than expected. If this is confirmed, it is also advisable to make sure that you have a place where you can reside for a longer period, that you are in good standing with Cambodian residency rules, that you have sufficient financial reserves and that you have the necessary insurances (travel, health, repatriation).
D) Visa extension
Good news! The Cambodian authorities have informed foreign embassies that all tourist visas (category T) are automatically extended until a departure from Cambodia is possible. Overstay fees will not be charged.
E) Situation in Cambodia and new restrictions
In order to stem the spread of COVID-19, the Cambodian government has recently ordered new measures. For example, Khmer New Year celebrations have been postponed. In addition, a travel ban from province to province (except from Phnom Penh to Kandal and vice versa) has been in effect since April 10 at 00:01. However, should you need to travel from one province to another for urgent reasons, such as reaching Phnom Penh International Airport, or for medical reasons, our Embassy can issue you a "Laissez-Passer". This official document in Khmer and English should allow you to reach your destination despite the travel ban.
Remember that we are all guests in Cambodia. Please comply strictly with the instructions of the Cambodian authorities. Actively inform yourself about the instructions of the government and the local media regarding the regularly changing restriction measures (Government news is reported daily in the "Fresh News" media, the EuroCham Cambodia's website also provides a good summary of the Government's measures). If you have health problems or suspect a COVID-19 infection, contact the nearest provincial hospital or the "Khmer Soviet Friendship Hospital" in Phnom Penh.
Don't forget to regularly consult the social media of our representation in Phnom Penh: Facebook page and website.
If you are a Swiss citizen residing in Cambodia, please relay this newsletter to any Swiss citizens currently traveling in the country that you might know of.
Finally, I would also like to sincerely thank you for the many messages of support and encouragement we have continued to receive since the beginning of the crisis. These various testimonials are a great source of motivation for my team and myself to continue operating in this difficult context.
I wish you all a Happy Khmer New Year and Happy Easter. Stay safe and healthy!
With my best regards,
Helene Budliger Artieda
Swiss Ambassador to Cambodia, Thailand and Lao PDR