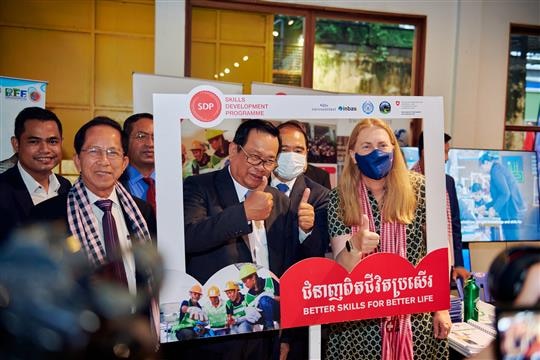 During the event, 10 years of fruitful bilateral cooperation between Cambodia and Switzerland were celebrated, and at the same time, the new Swiss Cooperation Programme in the Mekong Region was launched. Present were representatives of the Royal Government of Cambodia, diplomatic missions, development partners, international and national organizations, civil society organizations, and the private sector; around 160 participants. 
In 2012, the Swiss Agency for Development and Cooperation (SDC) opened a cooperation office in Phnom Penh to oversee Switzerland's development cooperation activities in the country. From that point onwards, Cambodia became an increasingly important pillar in Switzerland's international cooperation in the Mekong region. Switzerland then reinforced its presence in Cambodia with a Swiss consular agency in 2014 attached to the SDC office. The Embassy of Switzerland responsible for Cambodia is based in Bangkok, Thailand.

In Cambodia, Switzerland's international cooperation aims at reducing poverty, supporting equitable and sustainable development, as well as fostering participative and democratic governance while improving people's resilience in the wake of the COVID-19 pandemic and increasing impacts from climate change and disasters.

For the period 2022-25, the overall country budget amounts to CHF 59 million in Cambodia (approximately USD 61 million), plus CHF 28.2 million (approximately USD 29.2 million) for Mekong regional projects. Country programmes and activities in Cambodia are part of three thematic portfolios 1) Governance and Citizen Participation, 2) Inclusive Economic Development, and 3) Climate Change and Natural Resource Management. The promotion of gender equality, good governance as well as adaptation and mitigation of climate change and disaster risk reduction are key underlying elements of the SDC's cooperation.

All programme objectives and outcomes in Cambodia are aligned with the  development priorities of the Royal Government of Cambodia as defined in the Rectangular Strategy IV and in the National Strategic Development Plan (NSDP) 2019-2023, while contributing to the Agenda 2030 for sustainable development and hence the Cambodian Sustainable Development Goals.

During the festive event, Swiss Ambassador H.E. Helene Budliger Artieda highlighted: "It is my privilege and honour to personally witness these two important milestones in our cooperation and friendship with Cambodia. Switzerland values its longstanding partnership with the Government, private sector, international organizations and civil society. We are here to contribute to the future of this beautiful country and its people, young and old."