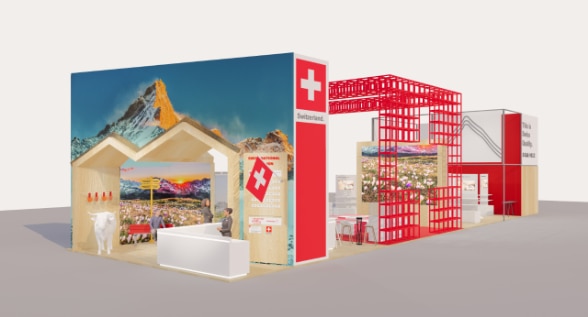 Switzerland has been selected by the Hainan Provincial Government and Hainan Provincial Bureau of International Economic Development as Guest Country of Honor of the first Hainan Expo. The participation of Switzerland at Hainan Expo – under the exclusive umbrella of Switzerland's Guest Country of Honor status – is offering unique visibility and excellent business opportunities to Switzerland's most renowned companies and premium brands in the luxury and consumer goods sector.
The unique concept and design of the Swiss National Pavilion comprises an 'Animation Area' and an 'Exhibitor Area'. The event space in a large, transparent 'Swiss Cross Cube' is designed for events and networking. The Swiss watch company Swatch, one of the two main partners of the Swiss National Pavilion, will present a lively pop-up installation, allowing visitors to fully personalize their watch, within a creative environment established by Swatch on a digital platform. To this end, Chinese and Swiss artists were invited to create an interpretation of the two countries, telling a story of differences, similarities, partnership and friendship. Visitors will be able to discover several different canvas and to choose their favorite one from which their unique Swatch design will be brought to life – in form of a personalized watch to be picked up in the Swiss National Pavilion. Switzerland Tourism, the other main partner of the Swiss National Pavilion, is providing visual material, whereby visitors can also enjoy the peaceful Swiss alpine natural environment in a relaxation zone, rest from the busy Expo atmosphere and take personal pictures in front of the beautiful Swiss landscape and a Swiss cow. These and other distinctive features in the 'Animation Area' offer the visitors the opportunity to interactively discover how Switzerland perfectly combines tradition and innovation. In addition, the Swiss brands exhibiting in the 'Exhibitor Area' will showcase the leading role of Switzerland in watchmaking, luxury goods, and premium consumer products.
The Swiss National Pavilion has received strong support from a large number of Swiss companies. 25 exhibitors – BAMOA GmbH, Beijing Euhome Trading Co., Ltd., Brauerei Locher AG, Cellap Laboratoire SA, Düring AG, Euro-Sino Enterprises Association, Fracht (Shanghai) Ltd., Hublot SA, kingnature AG, Kuehne + Nagel Limited, Laderach Food Trading (Shanghai) Co., Ltd., Laurastar SA, Medela (Beijing) Medical Technology Co., Ltd., Mondaine Watch Ltd., Nestlé (China) Ltd., Roca Sanitaryware Trading (Shanghai) Co., Ltd., Schulthess Maschinen AG, Silk Road Smart Group Sarl, Swissmooh (Qingdao) Food Co., Ltd., Swiss Nobleness AG, Top 1 GmbH, Victorinox Commercial (China) Co., Ltd., Weleda AG, Wyeth Nutrition (China) Co., Ltd., and Zimmerli (Shanghai) Trading Co., Ltd. – will present renowned premium Swiss brands, such as Adelbodner, AiMÉE, Appenzeller Bier, Caran d'Ache, Cellcosmet & Cellmen, Cyrus Watches, Delafee, durgol, Eptinger, Hublot, kingnature, Läderach, Laufen, Laurastar, Luminox, Medela, Mondaine, Nestlé, Schulthess, Swissflex, Swissmooh, Top1Plus, Victorinox, Weleda, Wenger, Wyeth Ultima, and Zimmerli.
Swatch Group and Switzerland Tourism contributed to the Swiss National Pavilion as partners whereas Brauerei Locher AG, Franke (China) Cooking System Co., Ltd., Hublot SA, Laderach Food Trading (Shanghai) Co., Ltd., Lindt & Sprüngli (Schweiz) AG, Ricola, Schuler Wine China Co., Ltd., Swissmooh (Qingdao) Food Co., Ltd., USM Haller, Victorinox and Xuantai International Trade Co., Ltd. participate as sponsors.
In addition, Swatch's watchmaking maisons including Glashütte Original, Longines, Tissot, Rado and Mido, as well as Nestlé, NIANCE, Le Glamour, Dr. Wild, and Richemont's watchmaking maisons, including Baume & Mercier, Piaget, Roger Dubuis and Vacheron & Constantin will exhibit with individual booths. The total Swiss presence at Hainan Expo will encompass a total area of approx. 1'100 m2 and can boast in excess of 40 Swiss exhibitors.