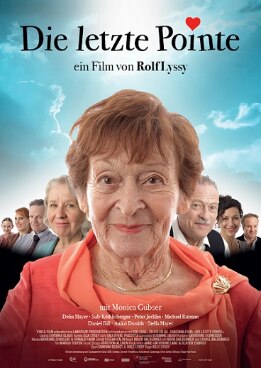 Weeks of the German Language, 24 October - 29 November 2020 
We have the pleasure to announce our participation in the Weeks of the German Language in cooperation with the Embassies of Austria, Germany and the Goethe-Institut Cyprus and invite you to three screenings of the comedy

Die letzte Pointe (The Last Touch), 2017, 99'
An uplifting film accompanied by jazz music by the siblings Baldenweg and directed by Rolf Lyssy, who was honoured with the Career Achievement Award at the 16th Zürich Film Festival 2020.
in Swiss German with English subtitles
free entrance
Friday, 13 & Monday 23 November 2020 at 20.30h - Goethe-Institut Cyprus, Nicosia
Sunday, 15 November 2020 at 20h - Rialto Theatre, Limassol
** The Rialto Theatre has announced the postponement of all scheduled events up until and including 30 November 2020 in compliance with the new emergency measures announced by the Ministry of Health of the Republic of Cyprus on 11 November to contain the spread of the coronavirus Covid-19. The screening of "Die letzte Pointe" has therefore been cancelled in Limassol. **
----------------------------
Synopsis: At the age of 89, Gertrud Foster is enviably energetic and independent with only one thing in mind when she smiles at the elegant Englishman, who she apparently found on a dating platform, even though she has no memory of doing so: to determine the final stages of her life herself before winding up in a dementia ward.
The screenings are posted on the new Weeks of the German Language  Website, as well as on its Facebook page.   
Important Note: Screenings are in full compliance with applicable COVID-19 health and safety measures. Limited seats are available and attendance is based on the "first come, first served" principle. Please follow the organisers' indications.