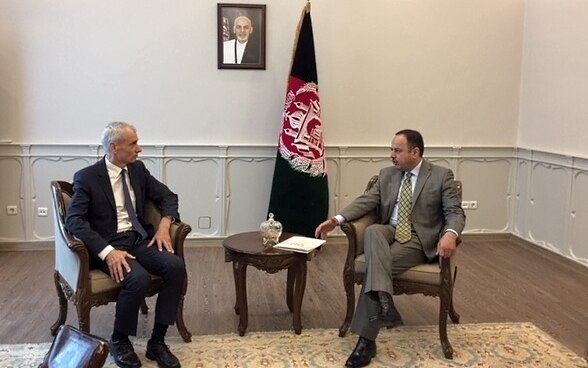 Afghanistan is one of the world's poorest countries, with 40% of the population living below the poverty line. Afghanistan is also currently one of the most fragile states worldwide. Forty years of continuous armed conflict have had serious repercussions on the country's development and the humanitarian situation there.
Switzerland's engagement in Afghanistan dates back to the 1970s. A permanent presence was established with the opening of the SDC cooperation office in Kabul in 2002 after the fall of the Taliban regime.
This framework agreement updates and supplements the legal framework for humanitarian aid and the technical and financial cooperation programmes for people in need. It sets out the principles and forms of cooperation between Switzerland and Afghanistan and simplifies certain aspects, such as the import and use of goods needed to implement the programmes. The Federal Council approved the framework agreement on 1 December 2017.
The SDC's priority programme in Afghanistan is fighting the causes of fragility and crises and working to reduce the negative consequences, particularly for women and vulnerable population groups. Switzerland's current engagement in Afghanistan is based on the Dispatch on Switzerland's International Cooperation 2017–20.
The SDC's programmes contribute to building trust in Afghanistan's state institutions such as the police and the judicial system. For example, Switzerland's contribution has been used to recruit and train 3,500 female police officers. On the whole public trust in the police has increased steadily since 2015. Moreover, in 2017 alone, almost a thousand people in need of protection obtained free legal aid and a fair judicial process. In the four provinces in which the SDC runs education programmes, the school enrolment rate is higher than the national average: 270,000 children now attend school there with SDC support, of whom over 40% are girls. In rural areas, more than 200,000 people have been able to increase their agricultural production and thereby improve their livelihoods. Certain activities, such as vegetable growing or goat and poultry breeding, provide an opportunity to include women in project activities. This enables them to contribute to the household income for the first time.
Through its ongoing support for the activities of the Office of the United Nations High Commissioner for Refugees and the International Committee of the Red Cross, the SDC also makes a direct contribution to protecting the rights of those affected by the conflict, particularly internally displaced persons and returnees from countries neighbouring Afghanistan.
Switzerland works on the ground in close cooperation with local authorities, other donor countries and international organisations. The SDC's current 2015–18 cooperation strategy for Afghanistan is guided by a long-term commitment, even in periods of instability and insecurity.
---
Address for enquiries:
FDFA Information
Tel. +41 58 462 31 53
info@eda.admin.ch
---
Publisher: