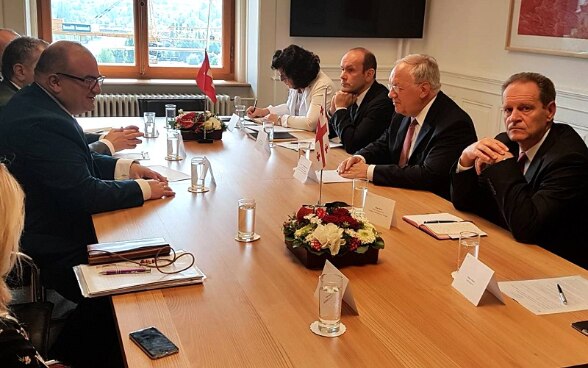 Over recent years, Georgia and Switzerland have established a solid partnership in the area of education and research: Nine young Georgian scientists have been awarded Swiss Government Excellence Scholarships and over 35 projects received funding from the SCOPES programme, which is run by the Swiss National Science Foundation (SNSF). With the support from the SDC-funded Vocational Education and Training (VET) project over 200 new training modules and 8 educational programmes were introduced in six vocational colleges in Georgia.
As part of the Government of Georgia's "Year of Education", and at the initiative of the Georgian Embassy in Switzerland, a delegation headed by Minister Jejelava visited Switzerland on 28-29 August. For the official part, the delegation met with the Federal Councilor Johann N. Schneider-Ammann, the Head of the Federal Department of Economic Affairs, Education and Research; Mauro Dell'Ambrogio, the State Secretary for Education, Research and Innovation and the Ambassador Manuel Sager, Director-General of SDC. The parties highlighted an excellent cooperation between the two countries, discussed the Swiss model of vocational education and explored opportunities for exchanges and cooperation between Swiss and Georgian universities.
The delegation also visited the canton of Fribourg, where they met with the member of the local government and a Rector of the Fribourg's university. The delegation members were taken on a tour to the cheese dairy affiliated to the Agricultural Institute in Grangeneuve.  A final meeting took place at the Agroscope in Posieux, the Swiss center of excellence for agricultural research.
The Embassy of Switzerland in Georgia was represented by the Regional Director of Cooperation Olivier Bürki. He commented on the solid partnership established through the SDC's VET project and confirmed continuous support to Georgia's endeavor within the framework of a continued Cooperation Strategy 2017-2020.