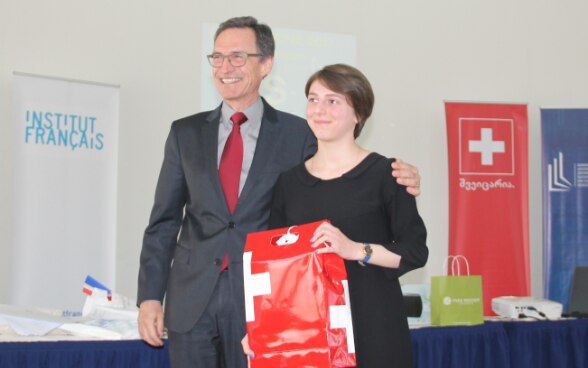 "Hello, I am Salome Parjiani, I am 17 years old and today I am happy because I won the competition!" shares Salome.
"I learned about it from internet. The task was to present Switzerland to my Georgian friends through a short video. I jumped to this opportunity immediately as Switzerland and its culture always interested me. I referred to my teacher to help me with a text and my close friend, Teo Bichinashvili, to help me with graphics. I owe this success to them as well. It was not easy but it was fun! I had to surf internet to learn more about Switzerland, I had to think hard to make the presentation as creative as I could. I am grateful to the Swiss Embassy in Georgia and Institut Français de Georgie for this opportunity!"
We are pleased to invite you to watch the film, in which Salome shares her image of the country she has not visited yet.