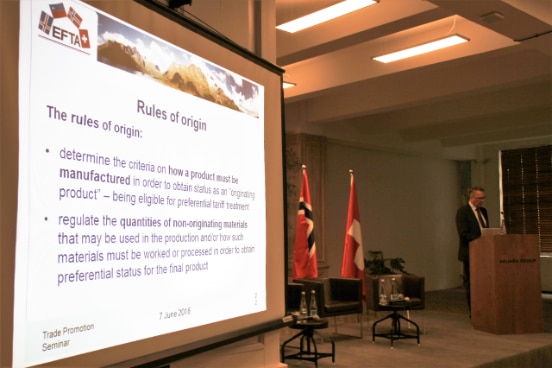 The EFTA Secretariat, in cooperation with the Georgian-Swiss Business Association (GSBA), the Embassy of Switzerland in Georgia and the Ministry of Economy and Sustainable Development of Georgia, held an "EFTA-Georgia: Trade Promotion Seminar" on 7 June  in Tbilisi.
The seminar brought together experts from the EFTA countries (Switzerland, Norway, Iceland and Lichtenstein) as well as representatives of Georgia´s private and public sectors to focus on the opportunities offered under the EFTA-Georgia Free Trade Agreement. The Agreement was signed between Georgia and the EFTA countries in June 2016. It entered into force for Georgia, Norway and Iceland in September 2017 and for Switzerland and Lichtenstein in May 2018.
The Seminar included a panel discussion where several Georgian companies with firsthand experience of trade with Switzerland were given floor to share their practical knowledge with the attendees.