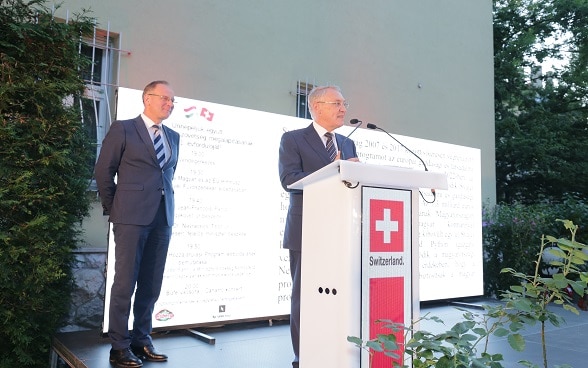 On August 1st, the Swiss National Day was celebrated in the compound of the Embassy of Switzerland in Budapest. Ambassador Paroz and his wife welcomed the guest of honor, H.E. Mister Tibor Navracsics, Minister for Regional Development and the utilization of EU Funds. The celebration of the 731st anniversary of the Swiss Confederation was an occasion to reflect on the historic developments taking place in Europe in order to ensure peace and security on the continent.

Ambassador Paroz expressed the view that the free flow of goods which took place in the middle-ages between Zurich and the Gotthard, as an objective of the old Confederates, now takes places in Hungary, on the Hungarian highways as part of a unique contemporary historic effort for a much broader prosperous Europe. Switzerland is committed to bringing its contribution to this collective effort.

The bilateral agreements between Switzerland and the EU have resulted in a win-win situation. The fact that in 2020 the EU derived a surplus of approximatively 34 billion Euros from trade in goods with Switzerland shows quite clearly that access to the Swiss market as part of the EU single market is of substantial value for the EU. Switzerland is also one of the main contributors to the free circulation of persons (or freedom of establishment) in Europe: in 2020, more than 1'400'000 EU/EFTA citizens were living in Switzerland, making up around 16.5% of the total Swiss population. In comparison, the average percentage of EU/EFTA citizens from other countries in the EU lies at only 4% of the total population.

Ambassador Paroz announced that a new Swiss-Hungarian Cooperation Program will be launched, as part of the second Swiss contribution with the aim of reducing social and economic disparities in Europe. Of the 1.3 billion Euros contribution, a share of 86 million will be allocated to projects realized in Hungary in partnership with the Hungarian Government.

Minister Navracsics informed about the main components of the upcoming Swiss-Hungarian Cooperation Programme, which will focus among other on research and education, financing for small and medium enterprises, migration and integration, energy efficiency and renewable energy, water and waste water management, health and social protection.

The official signature of the agreement between the two countries about the program will take place later in the fall. In the meantime, the preparations for a rapid implementation of the program are actively pursued. The Swiss Contribution Office within the Embassy is operational and its director, Roland Python, will begin his mission in Budapest on 1 September.