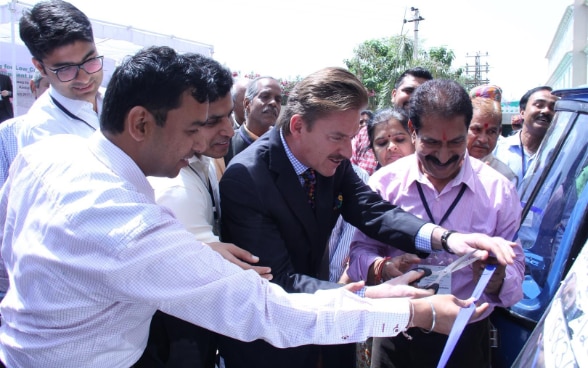 In his inaugural address, H.E. Andreas Baum, Ambassador of Switzerland to India, said that cities will be the hotspots of India's sustainable future. "In the planning of their future development, Indian cities will have to take into account the massive predicted migration from rural to urban areas. On top of this, climate change is making things even more challenging. Therefore, I am pleased that through the CapaCITIES project, Switzerland and India will be partnering with the cities of Coimbatore, Rajkot, Siliguri and Udaipur to address some of these challenges."
The Honorable Mayor of Udaipur, Mr. Chandra Singh Kothari, emphasized that countries need to work together to solve the issues brought about by climate change and welcomed the support provided by SDC. Mr. Sidharth Sihag, Commissioner Udaipur, also expressed his appreciation about how the collaboration between the city administration and the CapaCITIES experts was developing. Mr. Rohit Gupta, Collector and District Magistrate of Udaipur, emphasized that the project was instrumental in supporting the city's quest of becoming a smart city.  
The Director in charge of the Smart Cities Mission at the Ministry of Urban Development (MoUD), Mr. Sajeesh Kumar, also addressed the gathering. He underlined that transforming cities into smart cities was first and foremost about providing better infrastructures for basic services which ultimately leads to a better quality of life for its citizens. He thus commended the CapaCITIES project for its choice of focus areas. Mr. Daniel Ziegerer, Head of the Swiss Cooperation Office, Embassy of Switzerland, concurs that only a livable city is a smart city and points out that: "Swiss cities are regularly ranked top in international surveys on sustainability and quality of living. We will be sharing some of the expertise gained on climate-smart city development in Switzerland with our four CapaCITIES partner cities."
Mr. Alexander Lüchinger, Co-team leader of the CapaCITIES project, assures: "The Swiss experts are greatly committed to the project. They are engaging themselves to bring forth their expertise to the four cities, in order to meet the targets of the project." His Co-team leader, Mr. Emani Kumar, Deputy Secretary General ICLEI, adds: "All the four cities have shown a lot of interest while participating in the preparation of the project. They are keen on learning from each other's experiences, which is truly the essence of the CapaCITIES project ".
As a first tangible measure under the CapaCITIES project, eighteen passenger and load carrying electric rickshaws were handed over to the city of Udaipur by Swiss Ambassador Baum. The aim of this pilot initiative is to systematically test several variants and categories of e-rickshaws and evaluate the performance of different battery types. The e-rickshaws will be operated by underprivileged citizens who were selected through a lottery.  The information obtained through the test will then feed into the Udaipur's larger strategy of promoting electric mobility and the use of public transport.
The Capacity Building for Low Carbon and Climate Resilient City Development project (CapaCITIES) is supported by SDC. It aims at strengthening the capacities of Indian cities to identify, plan and implement measures for achieving a lower greenhouse gas emissions growth path and enhancing resilience to climate change.  The three year project will work with the city authorities of Coimbatore, Rajkot, Siliguri and Udaipur in the formulation and implementation of integrated action plans and measures in the selected focus areas (buildings, waste, sewage, water and mobility), sharing experiences with other cities and providing technical support for pilot and long-term bankable projects. The project is implemented by ICLEI - Local Governments for Sustainability, econcept and South Pole Group and a network of affiliated experts.
Project website:  www.capacitiesindia.org
For more information, contact: Dr. Shirish Sinha, Deputy Head Swiss Cooperation Office, Embassy of Switzerland, New Delhi, Phone: +91 11 4995 9500 Ext. 800893.