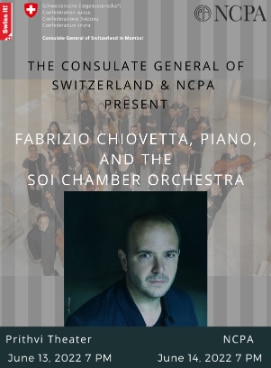 On his maiden trip to India, Swiss pianist Fabrizio Chiovetta will perform 2 concerts in Mumbai with the SOI Chamber Orchestra at the Prithvi Theater and NCPA. Subsequently, Chiovetta will give a solo piano recital at the Mazda Hall in Pune for the members of the Poona Music Society.
Programme
Mozart: Overture to The Marriage of Figaro
Mozart: Piano Concerto No. 12 in A major, K. 414
Beethoven: Symphony No. 6 in F major, Op. 68 "Pastoral"
Tickets for 13th June 2022, 7 pm, Prithvi Theater

Tickets for 14th June 2022, 7 pm, NCPA
About Fabrizio Chiovetta
Fabrizio Chiovetta was born in Geneva, Switzerland. Enrolling at the Superior Conservatory of Geneva, he majored in piano and music theory but also studied Italian literature, mathematics, musicology, and the Latin language before settling on the piano as a career. Winning the city of Geneva's Adolphe Neumann Prize, Chiovetta went on for further study at the Tibor Varga Academy in the Swiss city of Sion, graduating with highest honors. He is also much sought-after as a chamber musician. He performs with partners such as Henri Demarquette, Patrick Messina, Corey Cerovsek, Sarah & Deborah Nemtanu, Camille Thomas, Werner Güra, Sophie Karthaüser, Benjamin Appl and, notably, under the conductor Gábor Takács-Nagy.
The concerts are presented in the framework of Swiss It!