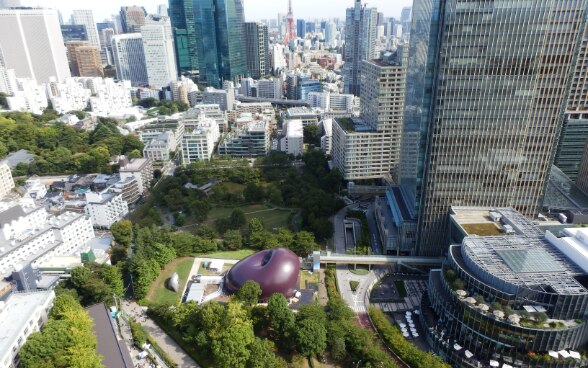 On September 19, the opening ceremony of Ark Nova took place in Tokyo Midtown, where Ambassador Jean-François Paroz gave opening remarks to celebrate the occasion. The venue was filled with the members of the media and also those who took part in realizing this grand-scale project. Ark Nova, the world's first mobile concert hall initiated by Switzerland's prestigious Lucerne Festival and Japanese partners in an effort to bring music to people in the devastated area after 3.11, blossomed first in 2013 in Matsushima, followed by Sendai (2014)  and Fukushima (2015). Two years since its last appearance, the hall was once again given life; this time in Tokyo.
The project, which will be open for two weeks in Tokyo Midtown this fall, aims to highlight the Tohoku region, where the recovery process is still ongoing.  "The Lucerne Festival Ark Nova project has done a lot to revitalize the cultural life of local people in the Tohoku region", said Ambassador Paroz in his opening remarks. "Ark Nova's meaning is about standing up together in the face of adversity, yesterday, today, and tomorrow. In that sense, it embodies the deep and long-lasting friendship between Japan and Switzerland", he added.  Mr. Masahide Kajimoto, Representative Director of KAJIMOTO, also introduced the story behind Ark Nova, which was born from his friendship with Mr. Michael Haefliger, Artistic and Executive Director of LUCERNE FESTIVAL.
Mr. Yasuhiro Nakamura, President of Tokyo Midtown, was also present to open the event through the tape-cutting ceremony. Ark Nova's presence is also meant to celebrate the 10th anniversary of Tokyo Midtown.  
The hall was designed by world-famous artist Anish Kapoor in collaboration with architect Arata Isozaki and has a capacity of 500 spectators.