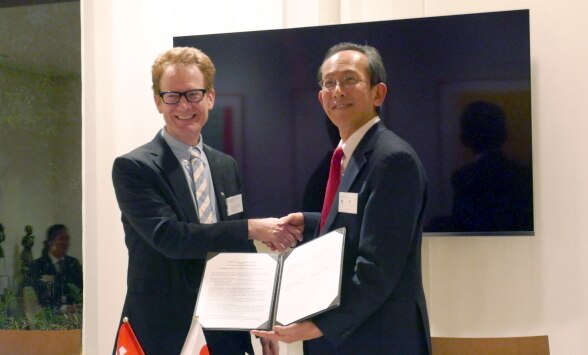 The signing ceremony, which concluded a well-prepared workshop resulting in concrete proposals for collaborative research, was also witnessed by officials from the Ministry of Education, Culture, Sports, Science and Technology (MEXT) as well as the Japan Science and Technology Agency (JST).
The event was opened with an address by Swiss Ambassador Jean-François Paroz, who congratulated the two institutions for the successful start of collaboration in this important field. He was followed by Prof. Masaru Kitsuregawa, Director General of NII, who reiterated his impression of the workshop to be fruitful and promising. Representing the University of Zurich (UZH), Prof. Christian Schwarzenegger, Vice President for Faculty Affairs and Scientific Information, pointed to the structural similarities and mutual technological aspirations of both counties as factors supporting the success of their strategic endeavor.
The MoU, also signed by Prof. Michael O. Hengartner, President of UZH, was finalized with the signatures of Prof. Schwarzenegger, Prof. Kitsuregawa and Prof. Ken'ichi Kawarabayashi, Deputy Director General of NII.
After the signing, Mr. Atsushi Hashizume, Director of the Information Science and Technology Division, Research Promotion Bureau at MEXT, congratulated the two institutions on their alliance and toasted to their future success. Also present was Mr. Koshi Nitta, Director of International Science and Technology Affairs Division, Science and Technology Bureau as well as other officials from MEXT.
The collaboration was initiated on the occasion of a meeting between President Hengartner, Vice President Schwarzenegger and Director Kitsuregawa in October 2018 in the framework of the Science and Technology in Society Forum (STS-Forum). The MoU opens new possibilities for joint research projects, researcher and student exchange, seminars, conferences and student internships.