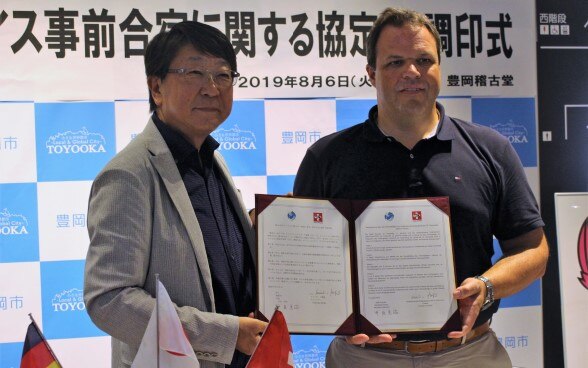 Toyooka City, located in Hyogo Prefecture, is a town of just over 82,000 people. To the north lies the Sea of Japan, and to the east, Kyoto Prefecture, while the main Maruyama River rolls gently through the middle of the city. With the coastal area designated as the Sanin Kaigan National Park, and the mountain area designated as Hyonosen Ushiroyama Nagisan Quasi-National Park, Toyooka is blessed with a rich natural environment that vividly reflects the four seasons. In 2005, the first oriental white storks—a government-designated majestuous birds in Japan—were released into the wild as part of a scheme ambitious even by world standards to restore a wild species close to human habitation. Main industries include agriculture, forestry and fishing, as well as tourism. The town also offers Kinosaki International Arts Center (KIAC), Japan's largest artist-in-residence center specializing in performance art.
Swiss rowing team will stay in Toyooka from July 9th to 19th, 2020 to train and prepare for the competitions in Tokyo. They have chosen the location because of the relaxing and traditional Onsen town Kinosaki, as well as the wonderful Maruyama River. Certified by the Japan Rowing Association, the Kinosaki rowing course along the Maruyama River will provide a great location for our athletes. The river which runs through the middle of the city is particularly suitable for rowing training because the gradient of the river is very gentle, with an incline of only 1 meter per 10 kilometers. Due to this, Japan's national rowing team holds a training camp every year in April, and the German rowing team will also come here for their training camps before the Tokyo 2020.
The Host Town Initiative was initiated by the Japanese government in 2016 to promote educational and sports exchanges between the local residents and visiting Olympic teams ahead of the 2020 Tokyo Olympic and Paralympic Games. Toyooka City is the sixth Host Town to Switzerland, after Oyamazaki, Fukushima, Oita, Fuji, and Tsukuba. Besides the pre-game training camps, showcases, lectures, workshops and festivals provide Swiss athletes and Japanese locals with unique opportunities to meet, exchange and create new ties that will outlast 2020.