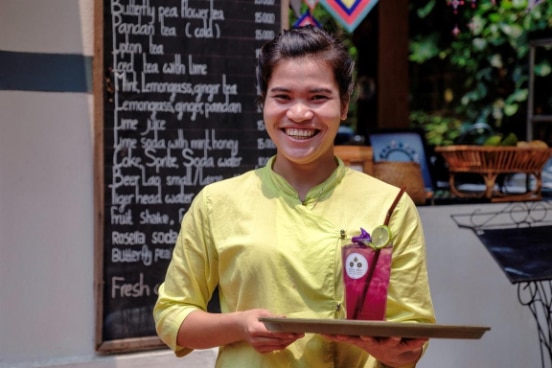 "I'm always looking for ways to improve, to make it better" says Pa as she is serving the colourful butterfly pea drink. Many will agree, her drinks are probably among the best in town.
Originally from Nam Bor village and the Khmu community, the 24-year-old Pa has quickly become an inspiration for everyone around her, especially for her coworkers.
Pa was recruited by Huean Cha Heritage Cultural Centre and initially started working in the kitchen. However, after only five months, she got promoted to the coffee and drinks area. She is now responsible for managing the small café.
She landed the job after she completed a three-month course in Food Production at the  LANITH Luang Prabang Training Centre.
Asked about the training and its impact, the first thing that Pa thinks of is: Confidence!
She explains that "before the training, I was very, very shy; but now I feel much more confident to communicate with people". She says that the training sparked a desire in her to "improve myself and broaden my knowledge".
So even in her spare time, she is trying to further develop her skills. From creating new drinks to working on her communication skills, there is no stopping her. She has big plans for the future: "I want to learn more, so that one day, I can open my own restaurant!"
The three-month Certificate 1 (C1)-accredited training programmes in Food Production, Food and Beverage Service and Housekeeping are supported by the Skills for Tourism Project (LAO/029) and delivered by the LANITH Luang Prabang Training Centre.
These training courses which focus, in particular, on inclusion of people from disadvantaged backgrounds in tourism/hospitality training and employment, are designed to equip young women and men with the required skill set to land an entry-level job in the tourism and hospitality sector. The LANITH Luang Prabang Training Centre supplements the high quality practical training with intensive English language lessons and basic employability skills.
Since 2017, the project supported over 100 students (75% of whom are women). All graduates have secured employment in the tourism and hospitality sector, including at leading hotels and restaurants in Luang Prabang.