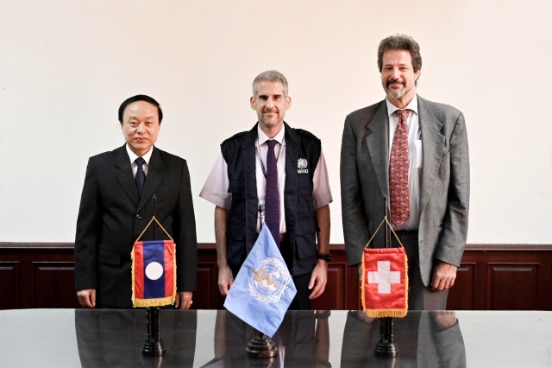 Dr Howard Sobel, Acting WHO Representative to Lao PDR and Jean-François Cuénod, Mekong Region Director, representing the Swiss Agency for Development and Cooperation (SDC) exchanged the signed agreements formalizing the donation of 310,000 US dollars  , with Dr Bounfeng, Phooummalaysith, Vice-Minister of Health presiding over the ceremony.
 "In March and April Lao PDR successfully contained the first outbreak of COVID-19 in our country. This was a major achievement, and shows the dedication and professionalism of Lao health workers. But no one should be under an illusion. COVID-19 remains a major threat to our country. We expect there will be another outbreak, and it could be bigger. Now, more than ever, we need to reinforce Lao PDR's defences against COVID-19 which is why I welcome this generous donation from Switzerland", said Dr Bounfeng Phooummalaysith, Vice-Minister of Health.
"Battling COVID19 is not only a Global Humanitarian Aid issue but also a Health System issue and ability of local authorities to deliver public services and ensure the safety and wellbeing of Lao citizens throughout the country. Switzerland's support through the WHO will ensure that the rapid response teams are properly trained and equipped with sufficient resources to deploy and respond to possible infection cases", said Jean-François Cuénod, Mekong Region Director, SDC.  
Much of the money is being spent ensuring district and provincial level disease control officials have the equipment and training needed to rapidly identify and respond to cases of COVID-19. This includes purchase of the laboratory equipment and materials needed to test for COVID-19. It also includes district- and provincial-level health staff training on COVID-19 case identification and contact tracing. Lao PDR has rapid response teams at central and sub-national levels comprising of epidemiologists, laboratory experts and clinicians that can be rapidly deployed to the field. They are often the country's first line of defense against COVID-19 and other infectious diseases.
"Time and again in this pandemic, we have seen that rapid detection of COVID-19 cases, and rapid tracing of their close contacts can stop small outbreaks turning into big one. I applaud Switzerland for enabling us to strengthen this life saving capacity in Lao PDR.", said Dr Howard Sobel, WHO Acting Representative to Lao PDR.
Funding from Switzerland will also be spent on strengthening health systems capacity to manage COVID-19 cases in Lao PDR. It will support Lao hospitals in reinforcing their preparedness to isolate and treat patients with COVID-19 and implement infection prevention and control measures for COVID-19 at central and sub-national level.
Further, it will support healthcare workers to equip themselves with personal protective equipment and be trained for proper use of personal protective equipment, while combating against COVID-19. Improving health systems capacity for COVID-19 will be critical in managing the COVID-19 outbreak successfully and contribute to strengthening healthcare systems of Lao PDR to address future public health challenges in a long-run.
For more information