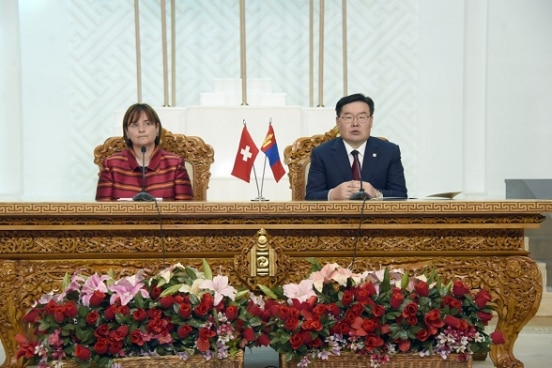 During her visit, Ms. Carobbio met with the President of Mongolia Kh. Battulga, Minister of Foreign Affairs D.Tsogtbaatar, the Mongolian Parliamentary Speaker G. Zandanshatar, Women Members of Parliament and other officials. 
Mongolian officials expressed appreciation of the relations with Switzerland "The Swiss Confederation is not only a third neighbor of Mongolia, but also has been a vital supporter for our transition into democracy and market economy. Switzerland implemented several effective projects and programs focused on improving agriculture, supporting rangeland management, increasing herder livelihood, developing responsible artisanal mining, and capacitating governance. These had tangible results and profound impact on the lives of Mongolians, and we're grateful for that", said Mr. Zandanshatar, as he expressed the hope that Swiss assistance to Mongolia would extend beyond 2022. 
"A solid and sustainable political and legal environment is important for strengthening economic partnerships," said President Kh.Battulga during his exchange with Ms. Carobbio. He added that there were many potential areas of cooperation, such as tourism, which would provide an opportunity for Mongolia to adopt Swiss managerial approaches. Ms Carobbio mentioned the different sectors where SDC has been active since 2004 and recalled that the Swiss Tourism Agency had expressed interest in collaborating with Mongolia; another channel for economic cooperation could be the private sector, by strengthening the ties between chambers of commerce. She could see a potential for such sectoral partnerships. 
The delegates' agenda included a trip to Uvs and Khovd provinces to see the projects of the Swiss Agency for Development and Cooperation. The visit of Ms. Marina Carobbio was a prominent milestone in the relations between Mongolia and Switzerland.