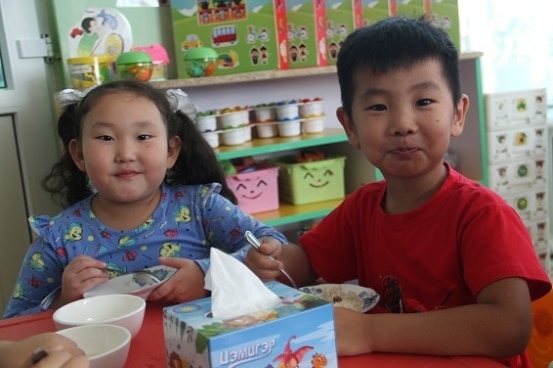 The kitchen staff and a director excitedly guided us on a visit to some of the classrooms while the children were having a juice break. They enjoyed freshly squeezed carrot and sea buckthorn juice from fruit and vegetables grown in their garden. The chef excitedly told us, "We also serve vegetable juice during harvest time."
As part of the Inclusive Sustainable Vegetable Production and Marketing Project, over 44 schools and kindergartens were enrolled in urban gardening activities. Teachers, guards, children, and their parents learned vegetable and fruit gardening skills. The kindergarten we visited had greenhouses and fields where potatoes and carrots were harvested. There were flower beds with blooming, nicely tended to flowers and sea buckthorn and black currant bushes bearing fruit. All the children are involved in growing seedlings and harvesting, and parents are invited to major gardening events to get involved in more demanding gardening activities.
Chefs at all the kindergartens and schools within the programme were enrolled in vegetable processing and cooking training. The menus at these kindergartens are now enriched with dishes prepared with different kinds of vegetables. Carrot juice was given to children at a number of kindergartens throughout the winter, and observations on growth and well-being were carried out and compared to children from other kindergartens. Of course, much positive development was noted in children who were given juice daily. 
"Children don't usually like vegetables that much. Perhaps it is because they are not accustomed to eating them at home. Our children love vegetables! Broccoli, cabbage, potato, squash – you name it, they love it!"  one chef told us. "They can recognize them, name them, eat them, and also know some of their health benefits. This is because they are involved in the vegetable growing process. We include the process in our hands-on teaching programme," says the director.
This positive change was achieved within the urban gardening part of the Inclusive Sustainable Vegetable Production and Marketing Project. Thirty "model streets" with an average of 15 households each were created in five urban districts and nine provinces, where home gardening skills transformed family gardens. The project provided the funds needed for boreholes to demonstrate the importance of a water supply for gardening, which was quickly taken over by local governments to introduce the concept in each of their respective provinces. The project partner, Mongolian Farmers for Rural Development, and the Women Farmers Association are now winning tender calls for creating gardening streets in a number of provinces. 
The Swiss Agency for Cooperation and Development is very proud of their achievement. The Mongolian Farmers Association for Rural Development and Women Farmers Association have spread this amazing trend and showed everyone how it is done. Soon, not having any greens growing in a household garden will look odd. 
For more information Inclusive Sustainable Vegetable Production and Marketing Project