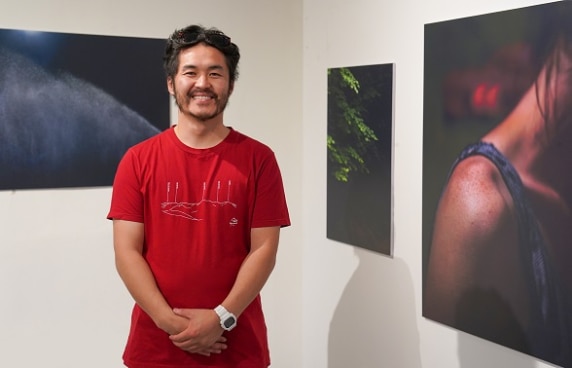 Through the Sustainable Mountain Art (SMArt) programme, cultural partners welcome artists to Switzerland. During their residency, these artists create a work that presents the opportunity to get to know the region's public, artists, and professionals. After they return to their country, a cultural institution will highlight the works and experiences of the artists. They exchange ideas with local artists, residencies, cultural institutions, and partners who are committed to the sustainable development of mountain regions. Byamba Batkhuyag, like many people of nomadic origin in Mongolia, now lives in the chaos of the big city of Ulaanbaatar. He retains vivid memories of his childhood summers spent on the steppes with his grandparents, where he learned to ride Zagal Tsagaan horses at the age of four. He grew up in the city, dreaming of being a pilot and travelling. Encouraged by his parents, he enrolled in university and graduated as a mining engineer. When the time came to put his studies into practice, he soon realized the enormous lack of sustainability in the mining sector. He suffers when he sees large mining companies in action, violently erasing the traces of past life on that land. He understands that such operations are one of the reasons for the constant exodus of his people, who find themselves trapped in the sprawling city, unable to keep their culture alive—carried out for millennia on free and endless expanses.
He decided to make a change in his life, and with the desire to communicate his feelings through images, he became a photographer. In his first projects, he chronicled the lives of the last nomads and his roots. He became aware of the importance of the elements, of the nomads' inseparable connection to the greatness of nature, which reminds us, "We are as small and fragile as blades of grass."
Byamba, who believes in the communicative power of photography, wishes to meet those who practice sustainable agriculture in other parts of the world. He hopes that one day some of his family members will be able to return to the fields, finding inspiration from their past but also equipped with more advanced means and technology. By chance, or perhaps by destiny, he discovered the SMArt programme.
He understands the importance of mountains for people who grow up in them. He photographs people facing present and returning challenges. He accompanies herders who protect their flocks to allow them to coexist with wolves, and farmers who seek solutions to the water shortages we are experiencing today. He documents people who choose organic farming not purely for economic reasons but because they believe it is the only way to future survival and hope for their well-being and that of the landscape.
Byamba lives and works in Ulaanbaatar. His focus is on portraits and street photography, and his work is mainly everyday scenes from the ger district, where Byamba has lived for 16 years. During his residency in Poschiavo from June through August 2022, he focused on the topic of sustainable agriculture, met farmers and breeders, and documented the challenges they faced.