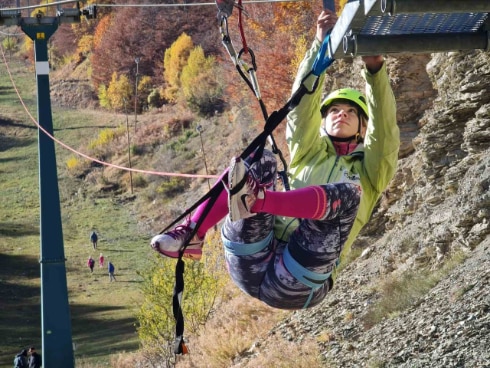 However, the lack of comprehensive safety systems at both the national and local/ destination levels is a serious drawback for both domestic and foreign tourists as safety is at the top of their priority list. Macedonian association for protection and rescue on mountains and inaccessible terrain Asklepij is working to overcome this barrier. 
Initiated as a volunteer organization back in 2005 by a group of outdoor enthusiasts - alpinists, climbers, and hikers, Asklepij established ongoing mountain rescue trainings for new members, became a member of the International Commission for Alpine Rescue, and launched training programs verified by the Ministry of Education and Science. Since 2017/18 they have been providing rescue and ski patrolling as a commercial service for the two biggest ski centres in the country – Popova Shapka and Mavrovo.

In 2019, a record number of 800 ski patrol interventions surged a demand for a larger pool of ski patrollers and rescuers. Asklepij approached the Swiss Increasing Market Employability Programme (IME) for additional support in training a new generation of rescuers who would then be deployed in the ski centres. IME immediately recognized and backed Asklepij's capacity to act as a business support organization and offer a safety service that will increase competitiveness of Macedonian ski centers and their touristic offer.

As a first step, to define the training parameters for the next generation of mountain rescuers, Asklepij initiated a coordination body with the Agency for Support and Promotion of Tourism, the Ministry of Economy, and four local ski centres. Through a competitive open call in December 2019, Asklepij selected a group of 36 candidates – outdoor and fit people with advanced skiing skills, able to handle the different mountain terrains. Candidates then underwent a rigorous training program on topics such as rescue of ski runs and cable cars, navigation, rescue on accessible mountain terrain, first aid, transport of injured persons, and risk management. In December 2020, 18 candidates successfully passed the final exam and were awarded the title of Rescuer in the Ski Patrol. They are now certified with the international ICAR standard.

Ski patrollers are the first people to be on the ski terrains every morning, and last at the end of the day.

"Being a rescuer is a challenging yet a fulfilling experience. Our job demands quick arrival at the place of the accident, providing first aid and safe transport to a medical professional."
Igor Saveski, Popova Shapka ski patrol leader.

The 2020/21 winter season in Mavrovo and Popova Shapka was backed with the new generation of rescuers. Asklepij offers ski patrol as a commercial service to the ski centres, regulated with seasonal contracts. Despite the lower tourist turnout due to Covid-19 restrictions, Asklepij's ski patrols performed 42 interventions in second half of December 2020 alone. This increases the level of safety and satisfaction of ski resorts visitors. "We constantly receive positive feedback from the tourists as they feel safer knowing that (Asklepij's) patrollers are always on the ski slopes to provide quick and effective service when needed" shared Ognjan Cigovski, Director of Ski Centre Mavrovo.

Instigating a Broader Change

In addition to providing immediate rescue and first aid interventions, Asklepij is on a broader mission to raise awareness among the ski resorts about the need to put safety measures into perspective. "Tourism providers need safety standards and services in place to make their product offer more appealing to local and international tourists" said Asklepij board member Konstantin Ciriviri.  Asklepij, along with five alpinist clubs and the rescue services within Red Cross Ohrid, recently established the National Union for Mountain Rescue. The Union advocates for mountain safety in the public discourse of institutions and tourism businesses.

The Swiss Government has been offering continuous support for tourism actors in North Macedonia to advance the local offer by putting safety at the core because only safe destinations are attractive destinations.