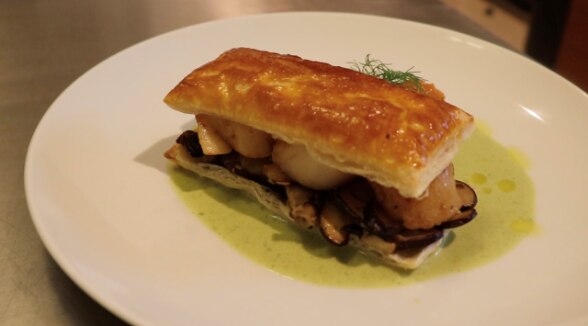 Pastetli "modern" or Puff Pastry Pillow with Scallops

Puff Pastry filled with Shitake Mushroom and Deep-Sea Scallops
on a Lemon Grass Cream Sauce, Tomato – Basil Compote

4 persons 
Recipe:
 1/2 pack           Puff Pastry sheets
12 pcs                Deep Sea Scallops (medium size)
240 grams        Shitake Mushroom, sliced
100 grams         Shallots, chopped
2 pcs                   Garlic, chopped
1 pc                     Egg
100 ml               White Wine
1 string              Lemongrass, chopped
1 pc                     Bay Leave
10 pcs                Black Peppercorn
100 ml               Cream 
½ bundle           Garlic Chives, chopped            
1 pcs                   Tomato very ripe
1 bundle            Basil leaves, chopped
Olive Oil
To taste             Salt & Pepper
80 grams           Butter
1 bot                  Lemon Oil         

Procedure
Pastetli or Puff Pastry Pillow
Place two puff pastry sheet on top of each other and cut "Pillows" out of it. Brush with egg wash and bake in oven at 200 C for about 20 minutes. Leave outside and when cold cut lengthwise in half. You can cut any shape you like. 

Mushroom
Sautee 60 grams shallots and garlic in butter till transparent, add shitake mushroom and deglaze with white wine. Sauté till slightly brown, season to taste with salt & pepper and keep warm. 

Scallops & Sauce
Heat olive oil with butter (ratio 2 to 1), season the scallops with Salt and Pepper and panfry till nicely brown on each side. Take the scallops out and keep on a warm place. Add in the pan butter, shallots, bay leaves, black peppercorn and lemongrass and sauté quickly (no coloration).    
Deglaze with white wine and little chicken stock, simmer for 3 – 4 minutes, add cream and reduce by ½ half. Strain the sauce, place in blender, add chive garlic and blend till smooth. Add some cold butter, season to taste and strain the sauce again. Keep warm. 

Tomato – Basil Compote
Peel, remove seeds and cut in small dices the tomato. Olive oil in pan, add shallots and sauté till transparent. Add tomato, salt & pepper and little wine and simmer till the tomato are nicely soft (about 10 minutes). Slice basil in julienne (stripes), add to the tomato, season to taste and keep warm.