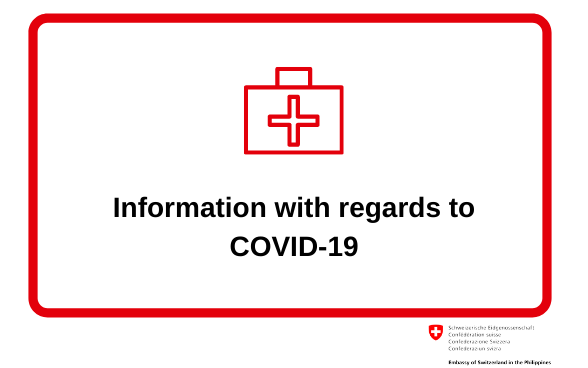 In an effort to contain the spread of COVID-19, the Philippine Government has introduced a set of stringent measures, such as quarantine and limitations to travel and immigration.
For all questions, please follow the information and advice of the Philippine Government, especially the Department of Health DOH as well as the World Health Organization WHO.
For questions in relation to the travel restrictions, please consult with the national authorities, airlines and travel agencies.
For health related questions or needs, please consult with your physician, hospital and the local authorities. For Swiss sources, you may consult information of the Federal Office of Public Health FHPO. The FHPO has a hotline, available 24/7, for your questions: +41 58 463 00 00.
Business activity of the Embassy: given the governmental measures as well as further precautionary measures taken by Embassy management, be informed that the Embassy is currently open to the public from Monday to Thursday 10:00 a.m. – 12:00 noon. Friday closed. These opening hours remain in place until further notice.
For urgent requests, you may contact the Embassy through Tel. +63 (0)2 8845 45 45, manila@eda.admin.ch; www.eda.admin.ch/philippines or contact the FDFA Helpline (Tel. +41 800 24-7-365 / +41 58 465 33 33).
Thank you very much for your attention.
With our best wishes for good health and kind regards,
Embassy of Switzerland in Manila