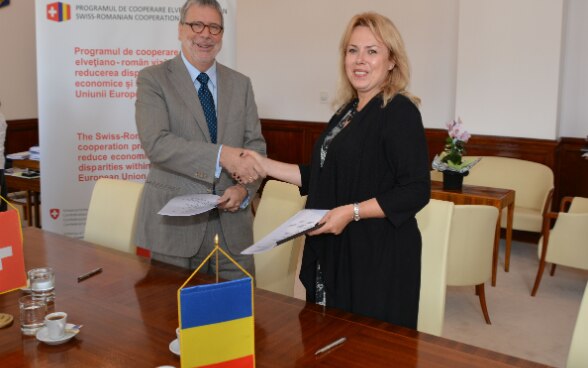 By the signature of the Agreement the project will start being implemented during a period of 31 months, starting with September 2016. This project, co-financed by Switzerland with the amount of CHF 1'382'604 constitutes a high priority of the Romanian partner, whose co-financing to the project amounts to CHF 243'989, as it is part of the overall strategy NAFA undergoes in view of enhancing its administrative capacity.
The main expected results aimed to a modernized tax administration, at central level, through a reliable EDMS, trained staff for using by an effectively manner of the new system and a significant improvement of the customer satisfaction.
The project is part of the Swiss-Romanian Cooperation Programme with a total value of 181 million Swiss francs, aiming at reducing economic and social disparities between Romania and the other Member States of the European Union, and between the different regions of Romania.  The implementing agency is NAFA and the Intermediate Body is the Ministry of European Funds, acting only as paying authority, while the Minister of Finance acts as National Coordination Unit of the Programme.