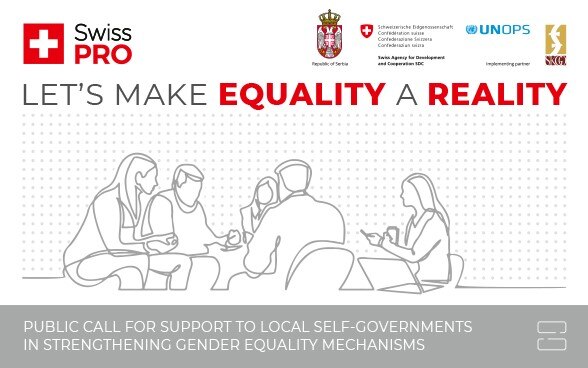 Through the call, the Government of Switzerland will support up to 30 local governments (LGs) with a total of EUR 100,000 to strengthen the mechanisms that contribute to promotion and advocacy of gender equality in local communities. Ninety-six towns and municipalities from the Sumadija region, West, South and East Serbia are eligible to participate.
LGs will be supported with up to 3,300 euro per project. The projects can support women's participation in decision-making processes, improvement of the status of women in the local community in the area of combating gender-based violence, women's health, economic empowerment, status of rural women and improving the quality of life of vulnerable, marginalized and women with disabilities. Activities can also be aimed at improving the competencies of local mechanisms, as well as the promotion of the European charter for equality of women and men in local life.
The Programme particularly encourages the establishment of inter-municipal and inter-institutional cooperation, and projects identified in local action plans for gender equality will be additionally validated.
To help all interested representatives of LGs and gender equality mechanisms to learn all the details of the public call - including the project selection criteria and the eligible costs, the Swiss PRO Programme will organize three online informative sessions. Complete information about the call, manner of application and required documents is available on the Swiss PRO Programme website.
The Government of Switzerland is providing EUR 6.2 million of support to the Swiss PRO Program for the period 2018-2021.