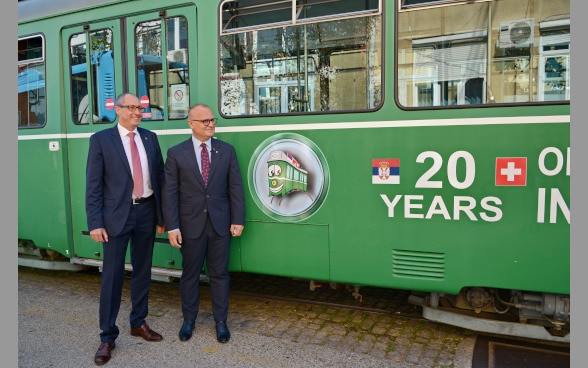 Firstly, this year marks 20 years since the first Basel trams arrived in Belgrade. Since 2001, a total of 65 tramcars and 48 trams have been shipped from Basel to Belgrade. These 113 trams still make up a third of Belgrade's tram fleet. The donation, worth CHF 4.5 million, marked the beginning of a great success story: despite their advanced age, the Swiss trams still function excellently and transport the citizens of Belgrade every day. Furthermore, they are still contributing significantly to a sustainable transportation system in the Serbian capital. It is simply impossible to imagine Belgrade city life without the Swiss trams from Basel.
Secondly, this tram jubilee coincides with the 30th anniversary of Swiss-Serbian cooperation. It is planned to celebrate this important anniversary with several events in the following months, whereas the celebration on September 11 marked the starting point of these activities. As Ambassador Urs Schmid pointed out: "While the trams from Basel might not reflect the whole picture of our bilateral relations, they rank probably among the most visible elements of Swiss presence in Serbia and they are emblematic for some of the key values of our bilateral cooperation such as reliability, demand-orientation and sustainability."
To commemorate this day as an important milestone in the bilateral relations between Switzerland and Serbia, a high-level delegation had arrived from Switzerland to Belgrade: Ms. Ambassador Ruth Huber, Vice-Director Swiss Development Cooperation (SDC), Mr. Martin Saladin, Head of Operations, State Secretariat for Economic Affairs (SECO), and Mr. Milan Sedlacek, Member of the Executive Board of Basel Transportation (BVB).
The jubilee event on September 11 started by a reception and a warm welcome by Belgrade's Deputy Mayor, H.E. Goran Vesic, and was followed by a promotional tram ride with specially decorated Basel trams – a courtesy from GSP – through the city center of Belgrade. With the opening of an exhibition at the Sava Promenade at Kalemegdan, an artistic performance by the Nikola Tesla Group and the distribution of ice cream and chocolate, it was possible to get in touch with the general population and celebrate this anniversary together in public. The jubilee activities were concluded by a reception hosted at the Swiss residence, at which the Serbian Minister of Construction, Transport and Infrastructure, H.E. Tomislav Momirovic, represented the Serbian Government and conveyed a greeting.