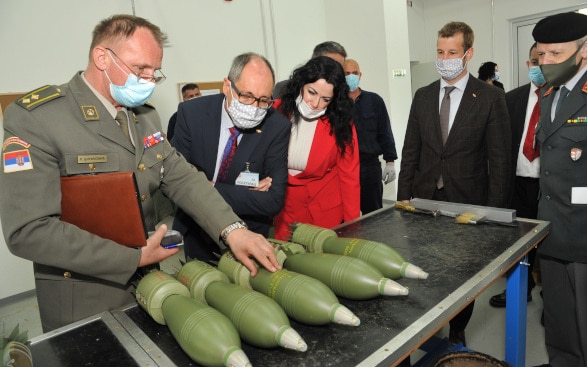 The delegation was hosted by the General Manager of TRZK, Lt.Col. Rasim Cirikovic, as well as by representatives of the Ministry of Defense and the NATO Support and Procurement Agency (NSPA).
Ambassador Urs Schmid emphasized the importance of the ammunition overhauling as well as destruction of ammunition surplus. The Ambassador also noted the achievements reached in TRZK within the frame of the project of NATO/PfP Trust Fund for the destruction of surplus conventional ammunition/SALW with Switzerland being among the main contributors.
While touring the workshops of the Institute and getting acquainted with the process of the ammunition overhauling and destruction, the Swiss embassy's delegation was also introduced with the process of cluster bombs dismantling being performed in the related Institute.