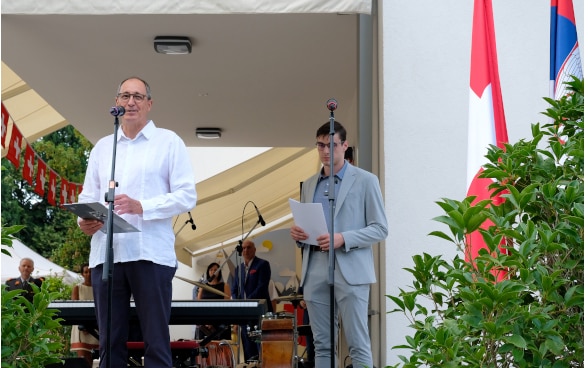 Esteemed Ministers,

Excellences, Ladies and Gentlemen,
Let me start by thanking Gabrijela for the performance of our anthems. I felt particularly touched, not only by her voice but also by the symbolism of her performance. As a member of the Serbian diaspora in Switzerland, she embodies a very important tie between our two countries. There are actually more than 130'000 people with Serbian roots currently living in Switzerland and they do not only contribute to the social and economic fabric of my country but have also turned our two countries into a sort of close neighbors. Moreover, as the presence of many of you today testifies, they are also increasingly present in the investment activities of Switzerland in Serbia. I will return to that in a moment.
Let me first recall, what we are actually celebrating today: Seven hundred and thirty one (731) years ago, in 1291, in the middle of summer, representatives of three valleys in what is today the center of Switzerland, met on a meadow to sign a pact of alliance. They vowed not to accept any intermediate sovereign below the Holy Roman Emperor of the German Nation; they pledged to defend each other in case of external aggression and they established some basic rules for their peaceful coexistence. This early pact gained considerable weight a few years later with the accession of three important cities, Zürich, Bern and Luzern and its ability to control some of the most important trading routes across the Alps. The alliance proofed to be successful. It expanded further, be it through additional pacts or conquests, helped by luck or by divine providence (as some would say), based on its own will or, at times, by agreement of the great powers, and over the years and centuries it would emerge as the Swiss Confederation of today. It is composed of 26 independent cantons, whose flags are also present here today.
The long, shared history of independence and self-determination has created a unique national identity. In contrast to many other nations, the Swiss share neither a common language nor the same religion. Swiss national identity has rather been forged on a few widely shared notions, namely freedom, federalism, solidarity and neutrality, which constitute also important guidelines of Swiss Foreign Policy.
Given current circumstances, let me briefly reflect on the notion of neutrality. Following a policy of neutrality does not mean that Switzerland remains inactive or insensitive in the face of conflicts. Whether by showing solidarity by welcoming refugees, including from the Western Balkans in the 1990s or from Ukraine today, or by offering our services to mediate between conflicting parties, Switzerland proactively works to contribute to peace. Advocating for the rule of law, Switzerland has strongly condemned Russia's military aggression against Ukraine, a sovereign state. It is a serious violation of international law. With this in mind, the Swiss Government also took the decision to adopt the sanctions imposed by the European Union on Russia. Before doing so, Switzerland has closely examined their compatibility with a neutral state's obligations under the law of neutrality.
Four weeks ago, at the beginning of July, Switzerland, jointly with Ukraine, hosted the international "Ukraine Recovery Conference" in Lugano. This conference, attended by 58 delegations from states and international organizations, laid the basis for the political process for Ukraine's reconstruction. It adopted the "Lugano Declaration" containing seven guiding principles to ensure that the recovery of Ukraine goes hand in hand with the reform process.
Let me come back to Switzerland and Serbia: there are many causes for optimism when it comes to the relations between our two countries. Last year, Switzerland was the second largest foreign investor in Serbia with 650 million Euros invested. In parallel, Switzerland has emerged as a top investment location for Serbian companies, mostly in the ICT sector. Despite the pandemic, bilateral trade has grown by 16% in the last year and with regard to the trade in services, Switzerland has become Serbia's fourth most important partner. Scientific cooperation is expanding as well, supported by the substantial assistance of Switzerland to the establishment of the Science and Techno Park Belgrade and the fact that in 2019 Serbia became a full member state of CERN, which is based at the franco-swiss border near Geneva.
A highlight for our bilateral relations earlier this year was the launch of the new Swiss Cooperation Programme for 2022–2025 with a value of nearly 100 million Euro. Under this umbrella, Switzerland will continue assisting Serbia in its reform process, focusing on three main areas: democratic governance; economic development and employment; as well as climate change and sustainable urban development. Support to dual vocational education and training will continue to receive special attention and I take the opportunity to warmly encourage both Serbian and Swiss companies to take an active part in hiring and training apprentices.
In this regard, let me also express my gratitude to the Swiss companies who with their generous donations have contributed to the success of tonight's reception: Stadler Rail, SGS Belgrade, MRG Export-Import, Regent Lighting, Dufry, Nestlé Adriatric, Froneri Adriatic, and SF1 Group / Nespresso.
Let us now focus on the bright side of life and let us toast to the friendship between our countries. Like those first three Swiss cantons that signed an alliance more than seven centuries ago, let us remember that, we share common interests and values and that together we are stronger.
Thank you for your presence tonight. Zivela Srbja, long live Switzerland!