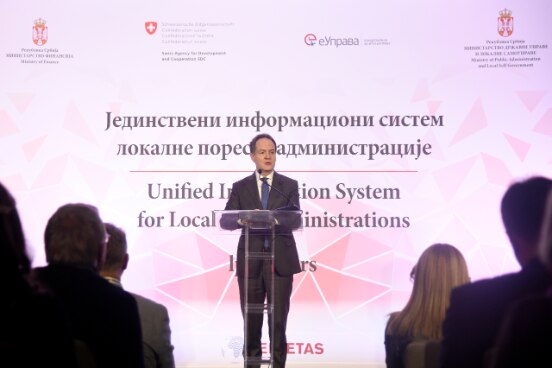 Premijerka Ana Brnabić očekuje da će Srbiji to pomoći da napreduje na Duing biznis listi, što kasnije, donosi nove investicije i radna mesta. Za nju, elektronska uprava znači i bržu, efikasniju i transparentniju uslugu koja se pruža građanima i privredi.
"Uvođenjem E-uprave uvodi se osnovni red u državi. Najveći benefit je što mi zdrav razum i red uvodimo u državnu upravu, a za građane i privredu postajemo servis", istakla je premijerka.
Nj.E. Švajcarski ambasador Filip Ge je naglasio da je uspostavljanje ovog sistema veliki uspeh, kao i da će to doprineti efikasnijoj primeni zakona.
"Švajcarska je ponosna što podržava lokalne samouprave u uvođenju usluga koje olakšavaju život i poslovanje građanima i privredi. Vrednost projekta reforme poreza na imovinu je 5.3 miliona franaka, međutim odnosi Srbije i Švajcarske važniji su od novca.", rekao je ambasador Ge.
Ministar državne uprave i lokalne samouprave Branko Ružić je napomenuo da je digitalizacija nezaustavljiv proces, kao i da je važno da država postoji za građane, a ne obrnuto.
"Zahvaljujući podršci Švajcaraca, sredili smo evidenciju poreza na imovinu u 44 opštine i 11 gradova u celoj Srbiji. Zahvaljujući ovom projektu i velikom zalaganju Kancelarije za IT, danas imamo i ovaj jedinsveni sistem", rekao je ministar Branko Ružić.
Poreska uprava će biti potpuno reorganizovana do kraja juna, i to će im omogućiti da budu još efikasniji, najavio je Siniša Mali, ministar finansija.
Sve lokalne poreske uprave u Srbiji sada su u jedinstvenom sistemu što građanima i privatnom sektoru omogućava podnošenje poreske prijave preko interneta i proveru i plaćanje poreza elektronskim putem. To praktično znači da unošenjem korisničkog imena i lozinke, građani mogu da vide koliko poreza duguju.