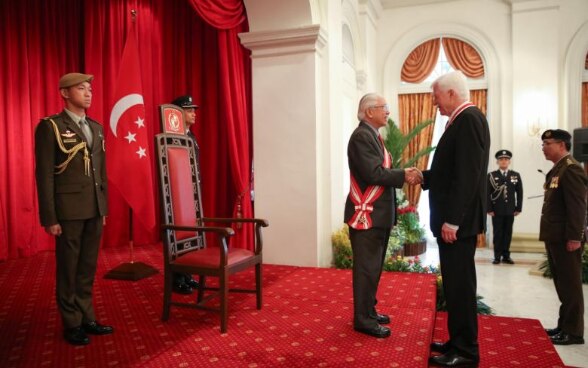 On August 14th 2017, Ulrich W. Suter, Professor emeritus at ETH Zürich and its former Vice-President for research, became the first Swiss to be conferred the Honorary Citizen Award of Singapore. This distinction rewards Prof. Suter's instrumental contribution to the formation and growth of Singapore's scientific and technological research landscape. He contributed actively to the launch of the National Research Foundation Singapore (NRF) and chaired its Scientific Advisory Board till 2011 among other contributions.
The Honorary Citizen Award is the highest award conferred by the Singapore Government to recognize foreigners who have rendered extensive and valuable services to Singapore and its people, or who have made a significant impact in areas such as science & technology. President Tony Tan Keng Yam conferred the award to Professor Suter at a ceremony held at the Istana. Deputy Prime Minister Teo Chee Hean, current Chairman of the NRF, and Minister for Finance, Heng Swee Keat also attended the ceremony.
See the enclosed press release for more information on Prof. Ulrich W. Suter's contributions as well as information on the Honorary Citizen Award.