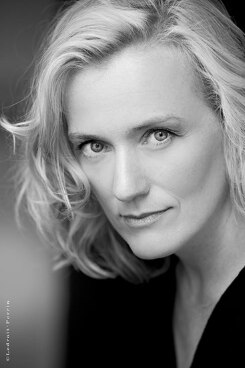 Die Zürcherin Lena Reichmuth hat neben ihrer internationalen Karriere als Schauspielerin (sie hat in über 20 Filmen mitgespielt, unter anderem die Magda Goebbels in JUD SÜSS-FILM OHNE GEWISSEN an der Seite von Moritz Bleibtreu und Tobias Moretti, sowie auch im norwegischen Oscar-Beitrag GONE WITH THE WOMAN) Weltstars wie Catherine Deneuve, Isabelle Huppert, Annie Girardot und die für den Oscar nominierte Emmanuelle Riva gecoacht, zudem begleitet sie Führungskräfte aus der Wirtschaft und Personen des öffentlichen Interesses auf deren Karriereweg.
Schon während der Schauspiel-Ausbildung hat Lena Reichmuth sich für die Wirkung der Schauspielkunst auf die Persönlichkeit und das Auftreten der Menschen interessiert. Die kontinuierliche Arbeit an ihrer eigenen Karriere, die Präsenz und Authentizität, die nötig sind, um in der Öffentlichkeit bestehen zu können, und die Erfahrungen, die sie gesammelt hat, um einen Film auch finanziell zum Erfolg zu führen, wendet Lena Reichmuth gezielt an, um Persönlichkeiten aus der Wirtschaft zu einer optimalen Performance zu verhelfen. Eine top Performance in der Welt des Showbiz erfordert ähnliche Qualitäten wie eine top Performance auf dem Business-Parkett.
Lena Reichmuth bietet im Rahmen von ACTING FOR SUCCESS Firmencoachings, Einzelcoachings und Workshops an.