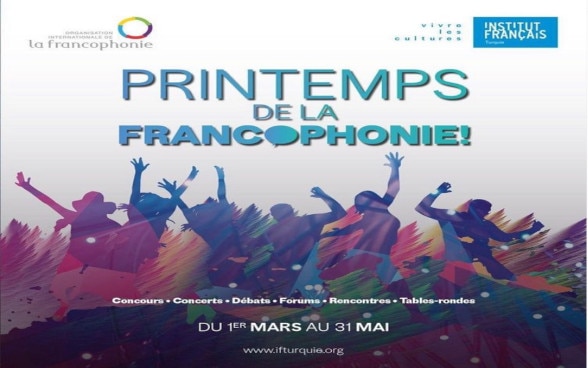 The month of March is the month of the French language. This year, Switzerland participated amongst other French-speaking countries such as France, Belgium, Morocco, Tunisia and Canada with various contributions to a diverse program of cultural events held in the French language.
At the main event in the Palais de France in Istanbul, different Swiss artists were present, such as improv artists from the group Impro-Suisse or photographer Nicolas Brodard.
With various appetizers from different cuisines including Swiss Chocolate, the culinary side was not neglected either.
Marc Perrenoud Jazz Trio
During the month of Francophonie, the Jazz Trio Marc Perrenoud completed a tour of several days with stops at the Lycée Saint Benoit Istanbul, Nardis Jazz Club Istanbul and the CerModern in Ankara. The highlight of their trip was their performance at the Jazz Festival in Izmir. Their guest performance on the occasion of the festival took place in front of over 1000 people in a sold-out hall and thrilled the audience!
Francophone Film Days
The French Cultural Institute organized and coordinated the Francophone Film Days in Istanbul, Ankara and Izmir. Switzerland participated with the two films "Tambour Battant" and "A la recherche de l'homme à la camera" in the diverse program.
In "Tambour Battant", a small village in the Valais experiences unusual turbulences in the spring of 1970. The brass band is falling apart. What begins as a musical conflict, soon leads to a political confrontation.
While Tambour Battant is a light comedy, the second film is about the search for a childhood friend, who, during the Arab Spring in Syria, captures the events with his camera and then disappears without a trace.
Following the screening, an exchange on the topic of migration and human rights with the director of the film, Boutheyna Bousslama, took place. The panel discussion was also attended by the attaché for humanitarian aid of our embassy in Ankara, Charles Apotheker. "A la recherché de l'homme à la camera" won the Solothurn Film Award in 2017.