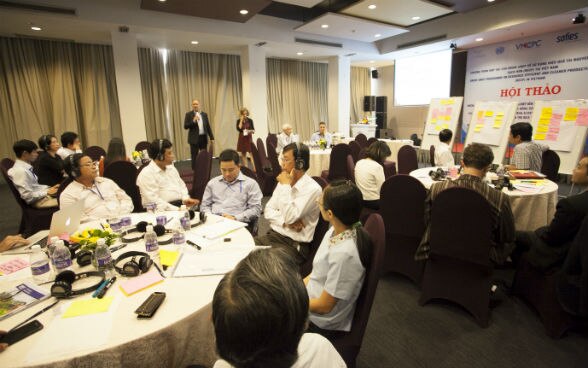 The mainstreaming event "Towards a sustainable agro-industrial ecosystem in the Mekong Delta in Vietnam – focus on the rice value chain" under the framework of "Resource Efficient and Cleaner Production Program" took place on 3 March 2017 in Ho Chi Minh City. The event was jointly organised by the United National of Industrial Development Organisation (UNIDO), Sofies – a Swiss Consulting Company and the Vietnam Cleaner Production Centre (VNCPC).
The event gathered stakeholders from the entire rice value chain in Vietnam to promote and share best practices for a sustainable and high quality rice production. Through this gathering, the event aimed at (1) illustrating to rice millers the added value of applying cleaner production and resource efficiency measures as well as the importance of integrating the farmers as key partners; (2) initiating cooperation between existing related projects and programs; and (3) advocating sustainable sector policies with the government.
Given the quality challenges that have weakened the competitiveness of rice export, Dr. Martin Fritsch of Sofies emphasised that "the sector needs to invoke changes to produce and export higher quality rice by creating incentives for rice farmers and millers to adopt sustainable production practices". He also stressed that "this would help to avoid continuous degradation of natural resources, such as soil and water".
Dr. Tran Van Nhan, Director of VNCPC, stated that the rice industry's export achievements of the past years came at the cost of adverse impacts on the environment during production and processing. He said "there is a great potential to turn waste resulting from rice milling into biomass energy, which significantly contributes to reducing climate change". This is also confirmed by Mr.  Pham Van To, Deputy Manager of Technical Department within VinaFood 2 – the project's beneficiary - that  "energy cost usually one of the highest costs, particularly electricity usually account for 20 to 35 per cent of total production costs and if part of this largest expenditure is saved, it will significantly contribute to greenhouse gas reduction and help businesses improve competitiveness".
At the forum, Mr. Miroslav Delaporte, Switzerland's Head of Cooperation in Vietnam expressed his appreciation to UNIDO, VNCPC, Sofies and their private partners for their joint efforts in achieving tangible results in Waste and Pollution Prevention through the implementation of RECP solutions for waste minimization in the rice sector. He emphasised that "the project cannot achieve and sustain the results without strong cooperation and commitment of the private sector partners through their time, technical knowledge as well as capital investment. SECO is convinced that the whole sector will benefit from the project interventions".
Resource Efficient and Cleaner Production (RECP) is a joint Global UNIDO-UNEP Programme in Developing and Transition Countries and supported by the Government of Switzerland. The Programme is aimed to improve resource productivity and environmental performance of businesses and other organisations and thereby contribute to sustainable industrial development and sustainable production and consumption in particular at the national levels. In Vietnam, the program supports the workstream "RECP for Waste and Pollution Prevention: Industrial Waste Minimization and Low Carbon Production in rice and coffee sectors". After four years of implementation, the program has supported 16 rice millers and 10 coffee processers, resulting in a saving of 1.08 million kWh/year (equivalent to 80,000 USD), and a reduction of 621 tons of CO2 emissions/year. A business model was also developed to support these companies in business planning and technology transfer to improve the business performance and reduce negative impacts on the environment.
In 2017, the RECP Program will cooperate with the World Bank's Vietnam Sustainable Agriculture Transformation (VnSAT) project in the identification of relevant technologies and in the development of business cases to support the rice millers to get access to the VnSAT credit line and to achieve a successful investment. This strong synergy between the RECP and the World Bank VnSAT project is also relevant in the coffee sector in Vietnam, opening the door for potential further collaboration and global impacts.
For further information, please contact:
Do Quang Huy
National Program Officer
Swiss Cooperation Office
Embassy of Switzerland
44B Ly Thuong Kiet Street Hanoi,Vietnam
Phone: +84 4 3934 66 27
Fax: +84 4 3934 66 33
E-mail: huy.doquang@eda.admin.ch