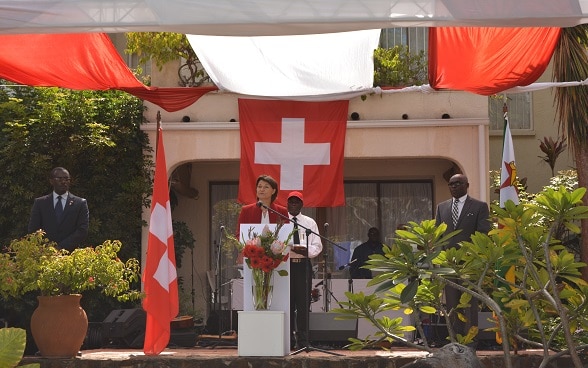 Swiss companies operating in Zimbabwe include Nestlé, MSC Logistics, ABB, Lafarge-Holcim, Bata Shoe Company and Schindler.   
"It is important to mention the private sector, as we all know the frame conditions are not very favourable for attracting new investment. Cases of previous investors in agricultural production are unresolved. It is therefore important to acknowledge the positive contribution and the continued commitment of Swiss companies here present and the impact they are making through their knowhow, investment, production of quality products and job creation," said Ambassador Huber.
Speaking on the improved bilateral relations, Mrs Huber noted that in February of this year Switzerland and Zimbabwe signed the Bilateral Agreement on International Cooperation that was further bolstered by the approval of a new Swiss Agency for Development and Cooperation (SDC) five year development strategy for Southern Africa that will run until 2022. The SDC programs focus on the prevention of HIV-Aids and the promotion of Food Security. In Zimbabwe, Switzerland is also working towards strengthening of democratic governance, peace and security.
Guest of Honour, the Deputy Minister of Foreign Affairs, Honourable Edgar Mbwembwe thanked the Swiss Government for the intensified cooperation with the Government of Zimbabwe and noted how this policy shift can be emulated by others.
"We are pleased with the number of development projects being implemented in the country with the support of the Swiss Government. This is especially so in the key sectors of agriculture, health and water and sanitation which have helped improve the lives of the people of Zimbabwe."
"In the areas of trade and investment we are very satisfied by the continued and active involvement of your government which has resulted in the creation of employment," said Honourable Mbwembwe.
Swiss nationals and visitors at this year's celebrations were treated to various Swiss food and wine that included mountain cheese, dried meat, Swiss style sausages, Raclette and Swiss chocolates.