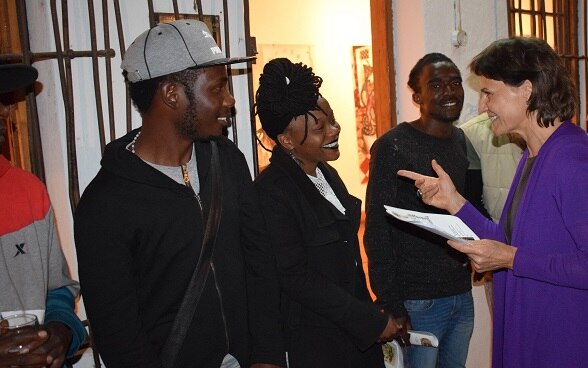 Gallery Delta with support from the Embassy of Switzerland has been hosting upcoming artists from underprivileged communities who have no other avenues to exhibit their work for the past five years.
Some of the young artists gone to become well distinguished individuals who have exhibited their works in Berlin, New York, Venice, Hong Kong and other international destinations.
Among the artists represented this year are Epheas Maposa, Kresiah Mkwazhi, Option Nyahunzvi, Evans Tinashe and Johnson Zuze. Inspired by various daily life experiences, the young artists have taken on various elements affecting Zimbabwe that include cash shortages, cheap imported goods, urban waste and the impact of traditional beliefs among a web of other issues.
In her opening speech, Ambassador of Switzerland, Mrs. Ruth Huber thanked Gallery Delta for their great commitment in promoting young artists who often are not very well known and have no means to advertise themselves.
Gallery Delta co-founder, Helen Lieros said the exhibition is meant to promote upcoming artists who would otherwise never get such opportunities to be exposed within the industry.
"The exhibition gives the artists a chance to be recognized, to exhibit and to be part of the arts sector. It is also a form of education where they get to know and understand each other better and the gallery gets to know the artists who are in the country, those that have improved and those that are beginning to enter the field," she said.
One of the artists, Kresiah Mkwazhi expressed her joy at being given such an opportunity: "It is a great privilege for me to showcase my work and to see other work from the other young artists.
The LINK – Different Viewpoints Exhibition which includes paintings, graphics, textiles and mixed media runs until 15 June 2017.