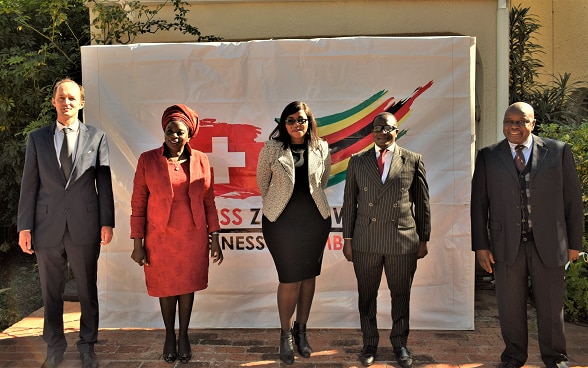 The new Chamber will serve as a platform of exchange for its members and interested parties from government and business. It will link leading international companies and small to medium enterprises from Switzerland and Zimbabwe and promote best practices.
Speaking at the official launch of the Business Chamber, Ambassador of Switzerland, H.E. Niculin Jäger, said the Swiss-Zimbabwe Business Chamber will be significant in supporting the trade relationship between the two countries going forward.

"Switzerland as the leading European investor in Zimbabwe can and wants to play a significant role in the economic development. I am confident that through the just launched Business Chamber we will create new opportunities for Swiss and Zimbabwe companies.

"The launch of the Chamber reflects Switzerland's commitment to advance efforts to deepen trade and investment ties between our two countries leading to job creation and economic growth. I believe the Chamber will serve as the premier bridge between business and government leaders in both countries," said Ambassador Jäger.

The Chamber's activities will be guided by a newly constituted Swiss-Zimbabwe Business Chamber Board of Directors that for the moment include LafargeHolcim, Pure Africa and Schindwe/Shindler.

Speaking on behalf of the Board, Mrs. Precious Nyika, the Chief Executive Officer of LafargeHolcim said, "The Swiss-Zimbabwe Business Chamber is a reflection of the need to have a dedicated platform that understands and partners with Zimbabwe going into the future."  

Reflecting on Zimbabwe's growth, Mrs. Nyika noted that the country's future will be "one that is sustainable, helps Zimbabwe reach its economic development goals and by doing so, creates a business environment that empowers Zimbabweans and strengthens communities through better access to employment, and other economic opportunities."

Foreign Affairs and International Trade Minister Ambassador Frederick Shava said the establishment of the Swiss-Zimbabwe Business Chamber augments the government of Zimbabwe's efforts for image building, international engagement and re-engagement based on the new thrust of Government to advance economic diplomacy to facilitate trade and attract foreign investors. 

"This kind of commitment by the newly established Swiss-Zimbabwe Business Chamber will enable increased business engagements between Switzerland and Zimbabwe. As the Minister of Foreign Affairs and International Trade, I look forward to facilitating enhanced economic and commercial diplomacy with Switzerland," said Ambassador Shava. 

Speaking during launch, Guest of Honour and Minister of Industry and Commerce, Dr. Sekai Nzenza, said the, "launch of the Swiss-Zimbabwe Business Chamber could not have come at a better moment for Zimbabwe, given the ongoing developments where the Government is strategically engaging the international community in an endeavour to realign the economy with the international Community." 

Switzerland is one of the biggest European investor in Zimbabwe and Swiss companies such as Nestlé, LafargeHolcim, Bata Shoe Company, Pure Africa, ABB, Schindler, Syngenta and Organic Africa play a leading role in job creation and generating income.