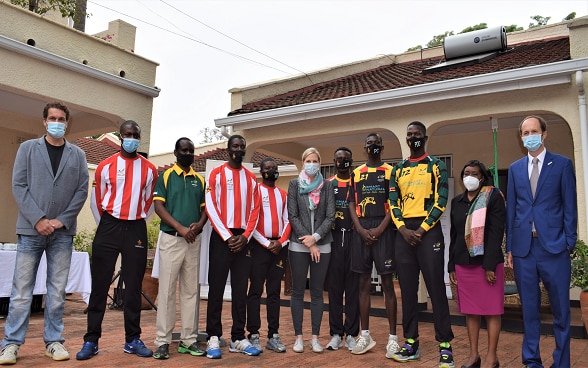 The training kit, handed over to the Zimbabwe Handball Federation is a donation from a Swiss company. The kit include, training wear, match kits, playing shoes, back packs and balls worth over US$15'000.
Switzerland has been supporting the Zimbabwe Handball Federation since 2019, after joining forces with a Swiss based coach, Mr Rolf Haussener – a former Swiss handball player to train the National Team for their continental campaign.

Speaking during the unveiling ceremony, Mr Rolf Haussener said, "Handball is a unique sport and I am excited to share this love for the game with young Zimbabweans who may otherwise have not gotten the opportunity to enjoy the great game."

Ambassador of Switzerland, Mr. Niculin Jäger spoke highly of the increasing cooperation and exchanges in all fields between Switzerland and Zimbabwe and stressed the importance of sport in uniting the people of the two nations.

"We believe sports have the power to unite and bring people together," said Ambassador Jäger.

"We are proud to partner with the Zimbabwe Handball Federation to help provide these young people with some of the required equipment and technical support needed to go out and play the game successfully," added Ambassador Jäger.

Guest of honour during the handover ceremony, Minister of Youth, Sport, Arts and Recreation, Honourable Dr. Kirsty Coventry highlighted the importance of sport in Zimbabwe and how the donated training kit will go a long way in supporting the handball team in their quest to qualify for the African Handball Cup.

"The impact of this donation and support will certainly be felt on the Zimbabwean sporting field as it will go a long way in supporting our handball team in their quest to qualify and participate in the African Games."

"Not only has the support by the Embassy of Switzerland been extended to the technical preparations by supporting a Swiss coach for the team, but has also been mobilized to reach out to the Swiss business community so as to garner resources for the handball national teams in various preparations and administrative requirements," said Minister Coventry.

Minister Coventry also underscored how her Ministry is currently in the process of promulgating the Sports Leisure and Recreation Bill and the Sport Integrity Bill which will go a long way towards realizing the potential that the sporting sector has in developing communities in Zimbabwe. She further urged various partners and stakeholders to continue supporting handball in Zimbabwe.