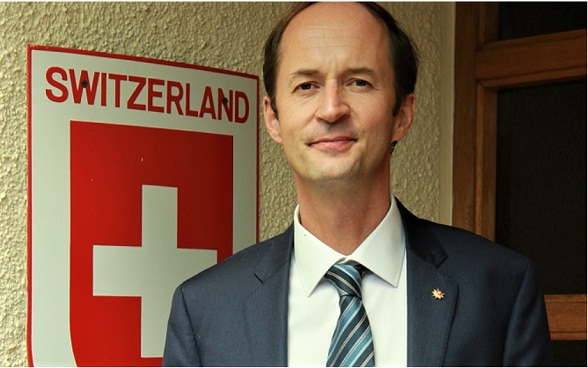 Prior to the marking of 42 years anniversary of Swiss-Zimbabwe bilateral relations, The Review and Mail journalist Albert Chavhunduka (AC) had an opportunity to conduct an intensive exclusive interview with Mr. Niculin Jäger (Amb NJ), the Ambassador of Switzerland to Zimbabwe, Zambia and Malawi. Below are the excerpts of the interview:

AC: Your Excellency, what's the current state of the bilateral relations between our two countries?
Amb NJ: Switzerland and Zimbabwe have a long history of mutual fruitful collaboration. The exchanges between our people date back nearly 100 years ago when the first missionaries came to Zimbabwe. Over the past decades, Switzerland and Zimbabwe have developed strong partnerships that can be traced back to 1980 when Zimbabwe became independent. At various times, following the attainment of independence our bilateral relations have witnessed an amplification in economic cooperation, development and humanitarian aid. Politically, relations have developed remarkably since the Second Republic came to power in 2018, and throughout this period, Switzerland has offered both substantial technical support to Zimbabwe in its democratic and socio-economic transition, as well as political support to government and independent institutions through supporting democratisation, institution building, political dialogue and reconciliation. In addition, the bilateral relations have deepened through frequent joint high-level contacts. President Mnangagwa visited Europe for the first time in 2018 and met with the Swiss President during the World Economic Forum in Davos. In response, the Swiss Foreign Minister, Ignazio Cassis visited Zimbabwe in 2019 and the Minister of Finance, Mthuli Ncube met his counterpart Federal Councillor Ueli Maurer in November 2021 in Berne, Switzerland. Economic relations have equally blossomed with a lot of Swiss companies operating in Zimbabwe although there is still considerable opportunities to be exploited. In 2021, the Swiss-Zimbabwe Business Chamber was established that will provide new impetus to Swiss-Zimbabwe trade relations.
AC: How fruitful has been those engagements so far? We have so far seen how under the Second Republic, President Mnangagwa has been pushing the engagement and re-engagement drive and reconnect Zimbabwe with the rest of the world.
Amb NJ: Even when the situation became tougher in the early 2000s, Switzerland never walked away. Also our companies stayed despite the challenging circumstances in the country. This differentiates us from others. Our independent foreign policy allowed us to remain engaged and address the whole bilateral agenda. The relationship between our two countries strengthened again since 2018.
Our engagements include but are not limited to bilateral affairs and political questions, but also multilateral issues like arrears clearance, debt restructuring are part of the agenda. We have substantive discussions with the Ministry of Foreign Affairs and International Trade concerning the protection of investments under the Bilateral Investment Protection and Promotion Agreements (BIPPA), as well as with sectorial ministries related to development issues. I am very happy to see this engagements and wish this will continue and be strengthened even in a more structured way with direct contacts between line ministries in both capitals.
AC: You made reference to Swiss companies which stayed in Zimbabwe during the economic turmoil in the past. Can you tell us more about some of these companies that are operating here in Zimbabwe and how is our business environment, in terms of ease of doing business?
Amb NJ: Switzerland is one if not the biggest European investor in Zimbabwe and there are many Swiss companies that are operating here, producing, providing jobs, paying taxes and making a difference for the benefit of the people.
The most visible companies are often seen not as Swiss but Zimbabwean because they are fully integrated into the market and I am particularly proud of this perception. One example is a well-known shoe company, which I am sure most people think it's a Zimbabwean company as every school kid has a pair of shoes from it, yet it is Swiss. If you look at this company, they produce several million shoes and create thousands of jobs in the region and other downstream industries that provide formal employment to a lot of people.
Take another example from the food industry. There is one specific cereal that comes out of Zimbabwe, it was invented here and it's produced here in Harare. It's a favourite of many locally and in the diaspora. You can even buy it in duty-free shops at airports. Other Swiss companies are in the field of transportation, logistics, energy and construction material as well as in tourism. So there is a wide range of Swiss companies in Zimbabwe and some of them are key players in the sectors they are in. Let's take for example the transportation companies, they are key in what they are doing for the importation and exportation of goods for Zimbabwe. Or take fuel trading, up to two-thirds of the product on the local market is traded by Swiss companies. We also have smaller Swiss companies here on the ground which produce tea, grow berries and other interesting products.
Now to the second part of your question, with a more stable legal framework, the ease of doing business can be strengthened with potential for considerable growth. Maybe it's the Swiss stubbornness which comes from the mountains that we stick to our decisions as I said earlier that we do not run away when problems arise. These companies are investing here on a long term basis. They now know the market, they know the potential and they are ready to continue investing. But there is room to enhance the business environment.
AC: What are the challenges?
Amb NJ: The challenges that affect Swiss companies are the same for many companies operating here in Zimbabwe. Some of the challenges include access to forex, taxation and retention systems and linked to that is the question of the repatriation of capital. For the ones who are in agriculture, the challenges are related to the Bilateral Investment Protection and Promotion Agreements (BIPPA). The Statutory Instrument 62 allows us to address the remaining issues on these investments. The question now is how we implement it and how it translate to concrete action on the ground. The quicker we find a solution to these challenges the better for everyone.
The other challenge has to do with red tape and overregulation, which in this day and age should belong to the past because the economy works at a different speed and is integrated in the global market. Some of the national regulations are hindering business operations and deterring foreign investment. There have been reforms, which are currently being implemented but we would like to see more of this as it will enhance growth and attract new and fresh investments.
AC: So in light of all these hindrances you have just mentioned your Excellency, how do Swiss companies manage to stay afloat?
Amb NJ: Some of the companies have had to completely change their business plans especially under hyper-inflation. One of the major challenge is related to the changes concerning the use of multiple currencies – a number of businesses have had to adapt completely and change their business methodology notwithstanding the tough times they would be going through. As a result of being able to adjust they have managed to endure the various challenges.
But of course, they all want to see an enabling business environment that is more stable going into the future. The wish is that we do not want to see policy inconsistences. This, I think is one of the key things which needs to be addressed. Resilience is key in the Zimbabwean market and most Swiss companies operating here have proven that they are spirited. Nevertheless we should strive for doing better as Zimbabwe has a lot of potential.
AC: Our two countries signed an international cooperation agreement on humanitarian, technical and financial cooperation as a measure to deal with the issues of poverty alleviation, democratic development, peace building and respect of human rights and the rule of law.
Amb NJ: This agreement laid the foundation for our cooperation because we strengthened our presence. Switzerland is currently developing a new cooperation programme with a clear focus on Zimbabwe. The bilateral cooperation programme will enable better synergies and coordination that will allow the realisation of integrated results in economic cooperation, development and political cooperation.
AC: How much has that partnership achieved so far to tackle these issues and what other big projects are you currently carrying out here in Zimbabwe?
Amb NJ: Switzerland is applying different instruments in Zimbabwe ranging from development cooperation to promoting political dialogue and support for the national healing process. In development and cooperation the first pillar is in the health sector. We believe that even before all the progress that has been made concerning HIV/AIDS, there remains a lot to be done in the area of prevention. We are targeting the youth which we believe is key especially when done at an early stage. In addition to this, we are supporting nurse-based treatment approach with the Newlands Clinic that is also used as a regional training centre for health workers specialising in the treatment of HIV. We believe that the sooner and consistent the treatment, the better it is for the patient and society.
The second pillar is food security. We see a lot of potential in different sectors such as supporting improved and climate-resilient agricultural production, the strengthening of value chains for the production of nutritious crops and supporting market linkages for smallholder farmers. Instead of it being assistance-driven, we would like to support the development of a more economic oriented and sustainable agricultural model.
In the thematic area of peace and dialogue, we are currently focusing on the national healing process in Matabeleland by engaging with the Chiefs Council. Another big project aligned with Switzerland's foreign policy is the abolition of the death penalty. We recently brought different stakeholders together to define a clear roadmap and legal procedure to support the abolition of the death penalty under the guidance of the stakeholders. I consider it very important that our effort in the political dialogue build on the results of the peace pledge conference that brought together all parties involved in the last general election. We will continue to strengthen our collaboration with the Zimbabwe Electoral Commission ahead of the 2023 national election. Switzerland is also providing support to demining partners working in the southern eastern parts of Zimbabwe to help build a brighter, productive and safe future for the communities. This will also contribute to reducing the ever-increasing numbers of human-wildlife conflict and help create job opportunities.
AC: Your country has in the past said that the implementation of economic reforms and democratic principles could pave way for a strong relationship that enables socio-economic development, trade and investment. How much progress has Zimbabwe made to meet these requirements and what are your expectations?
Amb NJ: I always have higher expectations and I see a lot of real potential that is there in Zimbabwe. So my expectations are that Zimbabwe can play in a higher league if it makes full use of that potential.
To do so, it has to implement reforms with some that are already currently underway and it has to address the reforms that are still under discussion. If this is done in a structured way, communicated well, and getting the support of the international community, then Zimbabwe has a brighter future. It has to be a constant process of reforms but also of visible quick-wins.
Quick wins can be sold to the international community and investors. The answer and recognition you would get out of it can considerably improve the perception of Zimbabwe abroad. This I believe, is a key step to be taken now. National markets are one thing, but when you want to be competitive at the international level then both political and economic reforms are critical.
AC: How much commitment has the Second Republic shown to the international community, to ensure that the illegal sanctions imposed on the country are lifted?
Amb NJ: After two decades of sanctions it is time that you look at the background and the context under which they were applied. Sanctions came about at a time of military intervention in the Democratic Republic of Congo, the land reform programme and acts of violence in the early 2000s. Some of these questions belong to the past, while others have to be still addressed. For me the starting point is the new constitution which is both modern and progressive. The constitution will direct where the modern Zimbabwe wants to go. The implementation of the new constitution is thus key for me in solving the sanctions issue. I believe that there is a need for a structured dialogue between Zimbabwe and the countries in question. To start this dialogue a facilitator could be called-in to lay out the questions that the parties want to address.
The interview first appeared in the Review and Mail.