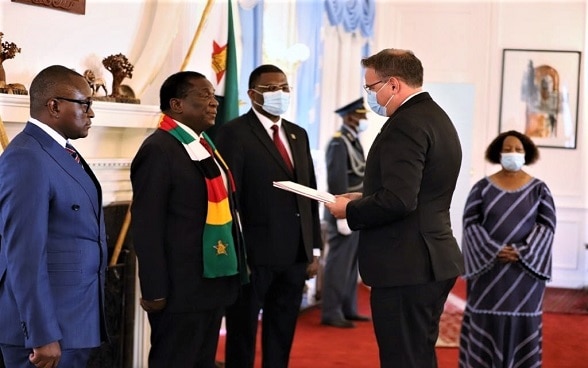 The ceremony included a bilateral meeting with the President where matters of mutual interest were discussed. Ambassador Rey conveyed greetings and best wishes of the Swiss Federal Council and expressed Switzerland's commitment to further strengthen existing friendly relations between the two countries.
He added that Switzerland is one of the largest investors in Zimbabwe and that Switzerland will soon launch its new cooperation programme for Zimbabwe which will prioritize improving food systems, health and livelihoods of youth and women and good governance.

"We are still one of the top investors in Zimbabwe in the pharmaceutical, agriculture and shoe manufacturing sectors, we will do certainly more. President Mnangagwa was in Switzerland this year and he stimulated trade between the two countries, I hope that we can do more to solidify trade," Ambassador Rey said.
In response, President Mnangagwa welcomed Ambassador Rey and assured Switzerland of continued cooperation.