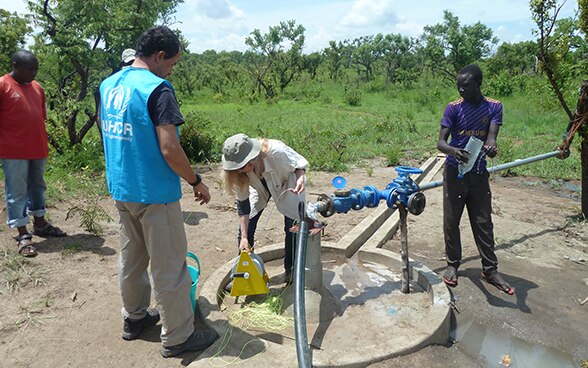 The Kakuma refugee camp in north-western Kenya is one of the biggest in the world: according to the Office of the United Nations High Commissioner for Refugees (UNHCR) there were about 180,000 refugees at the end of 2014, a number which in recent years has increased significantly as a result of conflicts in neighbouring South Sudan. The refugee camp is located on an arid plain. Ensuring that the refugees have sufficient drinking water is one of the main challenges. Researchers from the Centre for Hydrogeology of the University of Neuchâtel, in collaboration with staff of the SDC and the UNHCR, monitor and analyse the groundwater in the Kakuma region as part of a project financed by the SDC.  
The aim of the project is to achieve a better understanding of groundwater dynamics in arid areas and establish a basis for the sustainable management of Kakuma's water resources. 
In a first stage of the project on-site investigation of the area around Kakuma was conducted in an effort to establish its geological and hydrogeological profile. For this purpose the researchers installed sensors at a total of 10 strategically chosen well shafts to obtain data including the water level. The data collected in this way is then transmitted by means of a newly developed device over the mobile communication network and can then be visualised on a website. This makes it possible for the various partners involved to evaluate the data from any location. 
Complex calculations
Initial results indicate that the groundwater in the vicinity of the Kakuma refugee camp is of better quality in shallow layers than in deep layers. However these shallower layers are more prone to human contamination. Preventing such contamination is often one of the main challenges in a refugee camp. 
The supply of water as well as its quality was also a subject of investigation. An initial assessment of the water catchment area indicates that the amount of water harvested is considerably greater than the amount consumed at the refugee camp. This suggests that the focus in dealing with the water resources of Kakuma should above all be on water quality and distribution.  Precise measurement of the groundwater recharge would in any case be difficult as many of the indicators are based on estimates that can vary according to time and place. 
The researchers at the University of Neuchâtel will therefore concentrate on improving methods for the detection of groundwater recharge. 
The system is currently also being tested in Dadaab in eastern Kenya, the world's biggest refugee camp.  Should it continue to give good results, it would be possible in future to build efficient water management systems in remote crisis regions that are difficult of access.