Migration seen as enrichment through the lenses of five photographers
Article, 29.06.2016
An image is worth a thousand words. The SDC asked people who are going through the experience of migration to show through images the benefits it brings. More than 250 people from all around the world took part in the global photographic competition "The Other Side of Migration". The winners tell the stories behind these unique photographs.
The plethora of negative stories associated with migration makes us forget its positive sides. It nevertheless has two sides. For millions of men, women and children around the world, migration brings hope, life, renewal and creativity. For the receiving societies it is a tremendous source of energy and economic dynamism.
From March to May 2016, the SDC's Global Programme Migration and Development launched a global photographic competition entitled 'The Other Side of Migration' to compile a collection of personal accounts on migration. Participants from all over the world submitted some 300 photos illustrating lives that have been completely changed in as positive sense by migration.
Migration – a powerful factor of development
We met the photographers of the five winning photographs. They were deeply moved by the stories of these men, women and children who they photographed. Leaving their homes was the result of a personal decision and the strength of will to escape poverty and danger and to build a better life. Then came the long journey and integration in the host country to start a new life that brings hope and where one can give something in return to the host community. In this way the migrants contribute to the prosperity, progress and development of the countries that receive them. The photographers all expressed their admiration for the courageous journey these individuals embarked upon.
The winning photographers talk about their work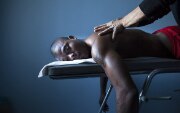 "Pagi, all-refugee football team"
Photograph taken in November 2015 in Sassari (Sardinia), Italy. By Alice Sassu, 36, Italy.
Could you tell us the story of your winning photograph?

When refugees from sub-Saharan Africa arrived in Sardinia, one of the poorest regions in Italy, they were faced with tough immigration bureaucracy and a lacklustre job market. So locals found a different way to get them involved in the community – forming a football team, "ASD Pagi". For the first time in Italian history, an immigration centre obtained approval from the Italian Football Federation to participate in a regional football league with a team entirely comprising asylum seekers.

Why did you choose to submit this picture in particular?

This photograph tells the story of Mujeeb Adebisi, a 19 year-old Nigerian. Mujeeb is a new player for "ASD Pagi". During his journey north he has passed through Niger before arriving in Libya, where he was kidnapped and had to live for two months in a small room with many other refugees. In this photograph Mujeeb's gaze depicts him resting after a journey of tragedy and hope. For me this photograph represents a hand outstretched to others.

What positive message on migration did you want to communicate through your winning photograph?

This photograph is part of a video and photographic project that lasted about two months. During this period I had the opportunity to know the ASD cooperative workers who manage the immigration centre and to meet three hundred boys from different countries in sub-Saharan Africa. I learned that hospitality means creating the right environment for social and human integration. I learned that sport can be a fun way to facilitate this integration. I learned from these young guys that immigration facilitates the cultural exchanges necessary to put a human face on a future based on mutual solidarity.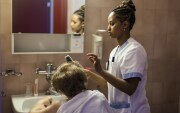 "Take care"
Photograph taken in February 2016 in the 'Foyer St Joseph' in Sierre, Switzerland. By François Lepage, 46, France.
Could you tell us the story behind this winning photograph?

This photograph was taken during a reportage on the Valais Red Cross. The Swiss Red Cross, which is celebrating its 150th anniversary this year, is staging a number of actions involving vulnerable people in Switzerland and abroad. Samrawit (in the photo), a young woman from Eritrea, was taken in by the Valais Red Cross when she arrived in Switzerland.
She was given training as a healthcare assistant and has since found work at the Foyer St Joseph in Sierre where she looks after elderly people.

Why did you choose this photograph in particular?

I found the story of this young woman very moving. First, her life story and her courage to leave her home country to escape recruitment into the Eritrean army. Then the long journey she had to make before finding this job in Switzerland. I chose this photograph in particular because it shows the tenderness in Samrawit's personality and in her hand movements, her dignity and the delicate way in which she works with the people entrusted to her care.

But beyond the personal story of this young woman from Eritrea, it is the symbol that the image transmits that I find important. Samrawit has found a way to return the care she received from the community that took care of her. She embodies this other, too little known side of migration. Migration enriches the host country and contributes to the development of a more caring and human society.

What positive message on migration do you want to communicate through your photograph?

This face of this woman, the aura she radiates and the message she conveys express her resolute joy and positive attitude to life… things that our world so badly needs!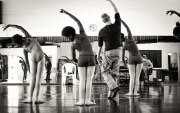 "Making the mother city home"
Photograph taken in August 2014, in Gugulethu, suburb of Cape Town, South Africa. By Lisa Burnell, Cape Town, South Africa.
Could you tell us the story of your winning photograph?

After graduating from the Russian ballet school in the UK at 18, followed by eight years dancing in Germany and now director of Zama Dance School in Gugulethu in South Africa, Andrew Warth originally came to Cape Town to dance in a production of Carmen, and was enchanted by the city's cosmopolitan atmosphere. Twenty-four years later he's still here and teaching township tots to twirl.

The Zama Dance School offers classical ballet lessons to around 128 students, mostly under 12, each of whom are also given a meal. Many of Andrew's students are faced with gang violence on a daily basis, and many have chosen to participate in dance as a way to escape getting involved in this violence.

As part of the theme, "The many faces of Cape Town", we began to explore the many national, ethnic and cultural influences that have come together to form Cape Town, as well as to connect and celebrate the diversity of the people of our city. Through this lens we set out in search of international change-makers who decided to make Cape Town home.

Why did you choose to submit this picture in particular?

I love this image for so much more than just this particular image. I love it for the way I felt while watching the artistry with which these children moved – children who walk with such elegance and poise through what can be an exceptionally violent environment. Andrew Warth uses ballet to give children a chance and a hope – and it is somewhere in the middle, where their grace meets their strength, that the real magic happens.

What positive message on migration did you want to communicate through your winning photograph?

In a country so grounded in a violent and abusive past, and where xenophobia is still so prevalent, this image tells the story of how across nationalities and cultures, across races and genders, and across ages and abilities there can be unity where there is oneness in purpose. This image and this dance school are a constant reminder of the benefits that migration can bring, and that the united South Africa of the future, that we all hope for, has actually already begun.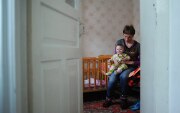 Photograph without title
Photograph taken in March 2015, in Taraz, Kazakhstan. By Vladimir Tretyakov, 36, Almaty, Kazakhstan.
Could you tell us the story of your winning photograph?

My photograph has no title. My work is a photo essay which has been conducted to illustrate the work of two American women who came to Kazakhstan fifteen years ago and founded a crisis centre for orphans and single mothers. Elizabeth Turnock and Victoria Charbone left welfare and well-being in the US for a great mission. They wanted to help children in an unknown and far-away country. I heard about them by chance. Their story motivates my photographic work.

Why did you choose to submit this picture in particular?

This winning photograph is a portrait of Vera and her child. Initially, this woman decided to give her baby up for adoption. But Elizabeth and Victoria convinced her not to leave the child. Both are now living in the crisis centre in Taraz. Thanks to two American women who migrated to Kazakhstan and founded the centre, Vera and her child have a shelter.

What positive message on migration did you want to communicate through your winning photograph?

Migration is not always running away from war and problems. Sometimes, it is also a chance to realise a dream and build a better world. Migrants bring a part of their culture to their adopted country that benefits the local population.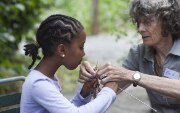 "First knitting lesson"
Photograph taken in July 2015 in a summer camp for refugees in Switzerland. By Ursula Markus, Switzerland.