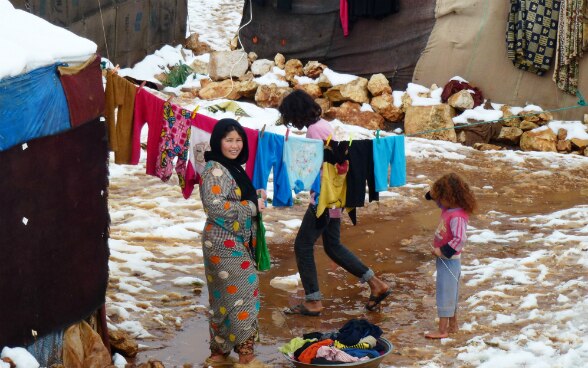 Ursula Keller, to mark International Women's Day on 8 March 2018, you will host an event entitled 'Women in Displacement' (see link at the end of the interview). What specific dangers and challenges do displaced women face?
People forced to flee their homes by war, violence, political oppression or natural disasters literally lose the ground from under their feet – regardless of their sex. But displaced women are particularly vulnerable in terms of personal safety, basic needs and livelihood. Women often become victims of sexual violence, especially in war situations. They are also more vulnerable to domestic violence because men who are no longer able to fulfil their role as family protectors and breadwinners often vent their frustrations through violence. In addition, they face risks that are specific to refugee camps, including inadequate lighting, restricted mobility and a lack of privacy in sanitary facilities. In African camps, women and children often have to walk long distances to gather firewood, exposing themselves to additional risks.
You mentioned basic needs. To what extent are female refugees discriminated against in this respect?
In an unsafe environment, it is even harder for women to meet basic needs such as food, healthcare and education. For example, pregnant women and mothers with infants often do not receive adequate medical care, which is why there are high maternal mortality rates in refugee situations. School attendance is often also compromised because schools in refugee camps or host countries don't provide separate toilets for boys and girls. Many parents don't want to send daughters above a certain age to school because of social norms or because they fear for their safety. This has serious consequences, considering that the average length of displacement for refugees is 17 years – almost a generation!
And what are the economic consequences of displacement for women?
They differ very widely. In the context of the Syrian crisis, for example, we have seen a marked increase in early and forced marriages, with families marrying off young daughters to older men for economic reasons. Young women in particular also risk prostitution and human trafficking. Displaced women often also take on new roles, with a double and triple burden: when men are absent, women have to earn an income in addition to shouldering the traditional responsibilities of raising children and running the household. But new roles can also enhance women's status and open up other opportunities for them.