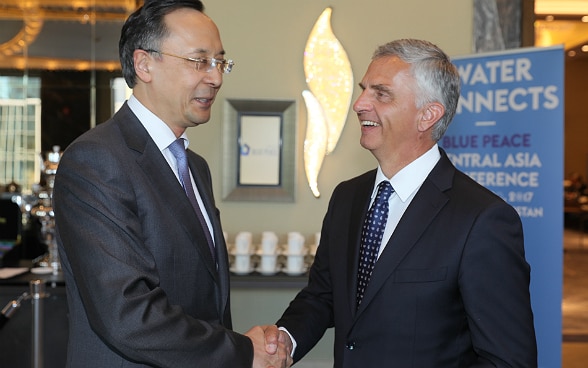 Federal Councillor Didier Burkhalter met with Kazakhstan's foreign minister Kairat Abdrakhmanov and Speaker of the Senate Kassym-Jomart Tokayev at two bilateral meetings on Monday in Astana, where all parties agreed that cross-border regulations for water access and use formed an important instrument of peace and stability. Immediately before these bilateral talks, Mr Burkhalter had launched the Swiss-led Blue Peace Central Asia initiative at a conference with representatives from Kazakhstan, Kyrgyzstan, Uzbekistan, Tajikistan and Turkmenistan. The idea behind this initiative, i.e. to foster the development of shared water use in Central Asia, was on the agenda of the foreign ministers' meeting.
The parties agree that efforts to prevent water-related conflicts should extend beyond the regional structures being developed and also include a global dimension. It was for this reason that Kazakhstan joined the Global High-Level Panel on Water and Peace, launched by Switzerland in autumn 2015 in Geneva. It is due to present its proposals to the panel in September 2017.
Mr Burkhalter and Mr Abdrakhmanov also discussed the issue of stability and security in reference to the work of the Organization for Security and Co-operation in Europe (OSCE) and of the UN. This concerned the talks on finding a solution to the conflict in Syria, which are being held in Astana as well as Geneva, and measures to prevent violent extremism. Given the importance of conflict prevention, the discussions also touched upon the Swiss-launched initiative to step up cooperation between the Human Rights Council in Geneva and the United Nations Security Council in New York.
Another focal point of the meeting was the 25 years of bilateral relations between Switzerland and Kazakhstan. The two foreign ministers discussed a number of issues, including the human rights situation and abolition of the death penalty. They also exchanged views on new and additional ways to expand their trade relations. Switzerland is currently the third-largest investor in Kazakhstan, with over 40 Swiss firms now operating in this Central Asian republic. However, Mr Burkhalter believes there is considerable potential to further increase trade relations, worth some CHF 380 million in 2016. In regard to fiscal policy, Kazakhstan works closely with Switzerland as part of the Swiss voting constituency in the Bretton Woods institutions (International Monetary Fund and World Bank).
---
Address for enquiries:
Information FDFA
Bundeshaus West
CH-3003 Bern
Tel.: +41 58 462 31 53
Fax: +41 58 464 90 47
E-Mail: info@eda.admin.ch
---
Publisher: