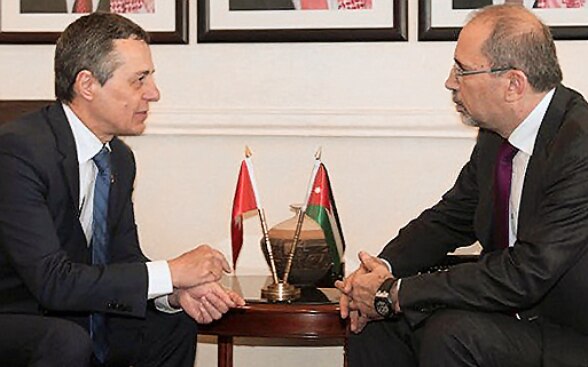 Almost four months after their last meeting at the World Economic Forum in Davos, Federal Councillor Ignazio Cassis and Jordanian Foreign Minister Ayman Safadi have met for bilateral talks in Amman. The situation in the region and the conflicts in Syria as well as between Israelis and Palestinians were central topics of their discussions. Current events such as the opening of the United States' embassy in Jerusalem lent added relevance to the topic. Mr Cassis underlined the important role Jordan plays with its political stability in the region and also referred to the large number of people who have found refuge in Jordan.
Of the approximately 10 million people who make up Jordan's population, some 3 million are refugees, mainly Palestinians and Syrians. Jordan is therefore an important partner for Switzerland in the humanitarian field. As part of its international cooperation activities, Switzerland is supporting projects worth some CHF 20 million to ensure basic needs are met (e.g. rehabilitation of schools), provide protection (e.g. to ensure international standards for refugees and migrants) and reduce the problem of water shortages (drinking water supply in refugee camps, wastewater management). After the meeting with Mr Safadi, Mr Cassis accompanied Mr Pierre Krähenbühl, Commissioner General of the United Nations Relief and Works Agency for Palestine Refugees in the Near East, to a centre for vocational training in Wadi Seer, where he spoke with members of a school parliament about education and future prospects.
In addition to the political and security situation in the region, talks with Mr Safadi also focused on bilateral issues. Relations between Switzerland and Jordan have grown closer in recent years. Symbolic of this is the agreement reached in 2017 between the two countries for regular political consultations, which will be continued in Bern in September. In addition, Mr Cassis opened the new building of the Swiss embassy in Amman yesterday, where the political, consular and international cooperation sections will all come together under one roof.
During the bilateral talks, Mr Cassis and Mr Safadi spoke about, among other things, closer cooperation in the field of vocational training. Both states already cooperate in the areas of water management and science, for example, on the Swiss Blue Peace programme, which aims to promote regional cooperation in the water sector in order to prevent water conflicts.
Scientific relations also exist in the field of archaeology, for example specialists from the University of Basel have been working on the archaeological site of Petra for several decades. The former capital of the Nabataean Empire was rediscovered, from a European perspective, in 1812 by the Swiss orientalist Jean-Louis Burckhardt. Mr Cassis will also visit Petra, where he will meet with Swiss archaeologists.
---
Further information:
UNRWA - United Nations Relief and Works Agency for Palestine Refugees in the Near East
The SDC's activities in the Middle East
Swiss cooperation office in Jordan
Factsheet Jordan
Construction of a new sewerage and water supply network for Jerash refugee camp

---
Address for enquiries:
Information FDFA
Bundeshaus West
CH-3003 Bern
Tel.: +41 58 462 31 53
Fax: +41 58 464 90 47
E-Mail: info@eda.admin.ch
---
Publisher: